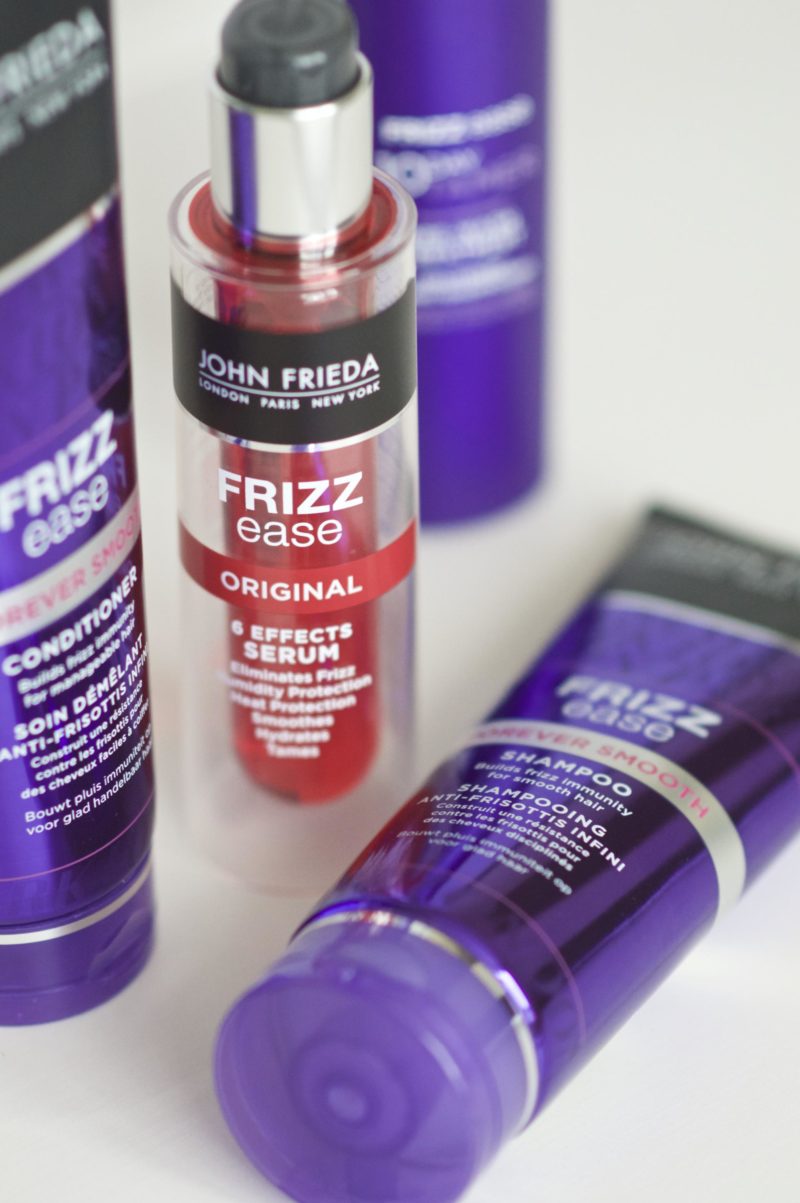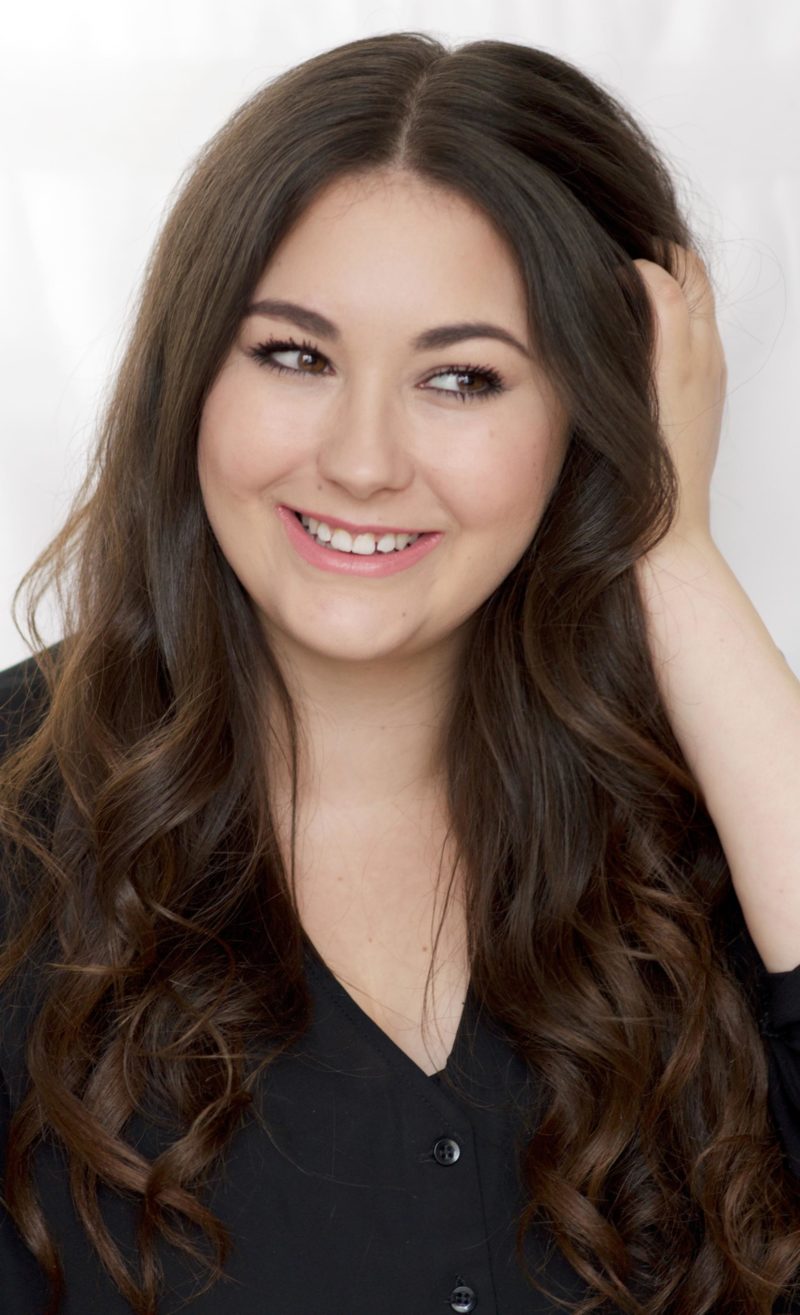 I've talked a lot on Made From Beauty recently about my super frizzy, out of control hair. If it's been the hair oils I love (read the post HERE) or the serums that help smooth things out (read about them HERE), there's been a lot of different products that I reach for in the hope they'll give me smooth glossy locks. Something I have learnt over the years of battling with an uncontrollable mane; when all else fails, turn to John Frieda's Frizz Ease range. In my frizzy hour of need, this range has consistently pulled manageable, polished hair out of the bag for me. As a teen I feel in love with the brands Original 6 Effects Hair Serum and my ghd's – the perfect concoction for pin-straight early 2000's hair!
So when the brand reached out and asked if I wanted to try out more from the Frizz Ease line, I couldn't wait to give them a go.
The whole frizz-free routine starts with a product that I was very skeptical about; the Ten Day Tamer Pre-wash Treatment. Like a lot of frizzy haired gals, I was thinking 'yeah right, if you can control my hair for 10 days, I'll eat my own hat!'. Well, needless to say; hat's don't taste very good. This product is a miracle for frizz in a bottle! Simply pop onto hair before washing, smoothing it over sections at a time, ensuring the whole head is covered, and then wait 10 mins before washing.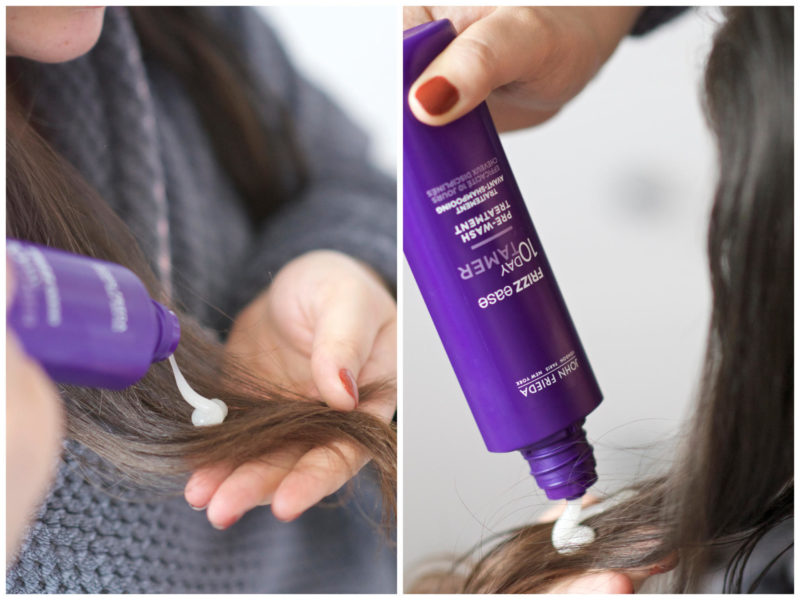 Normally I see some sort of change with products like this when my hair is wet, but after I took my hair out of the towel, I was still thinking 'yeah right, told you it would do nothing!'. Then as I started to dry my hair, the magic happened. My hair was so soft and manageable, and almost as if it had lost some of it's heaviness. My frizzy haired readers will probably know that normally our kind of hair just seem to get bigger and bigger as we blow dry it. But not this the Ten Day Tamer Pre-wash Treatment! I was able to dry my hair quicker and still get a smoother result after using this product.
So here's the big question…did it last 10 days?
In short, yes.
The results did last 10 days on me, but then I don't know if this is because I only washed my hair 3 times in that period. (Being able to wash hair less frequently is probably the only up side of having frizzy hair naturally).
I also tried out the Forever Smooth Shampoo and Conditioner. John Frieda say that with prolonged use these products actually help hair build immunity to frizz. Now I'm not too sure about that one, but I can say that my hair has been continuously smooth and silky for the past few weeks of trying these out. I do really like the fact that the shampoo and conditioner have coconut oil in there, along with the brands Frizz Immunity Complex, to help nourish hair, giving it a glassy shine. For maximum smoothness I like to leave the conditioner to work whilst I exfoliate and shave in the shower.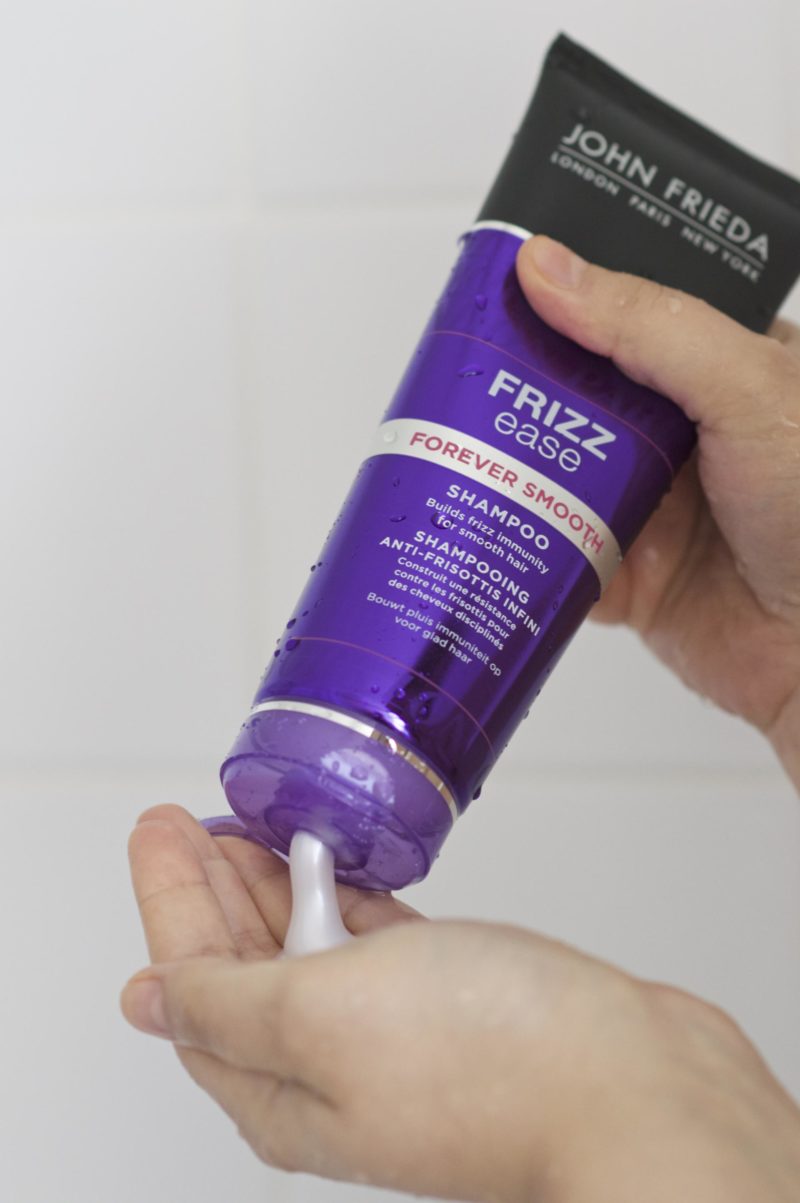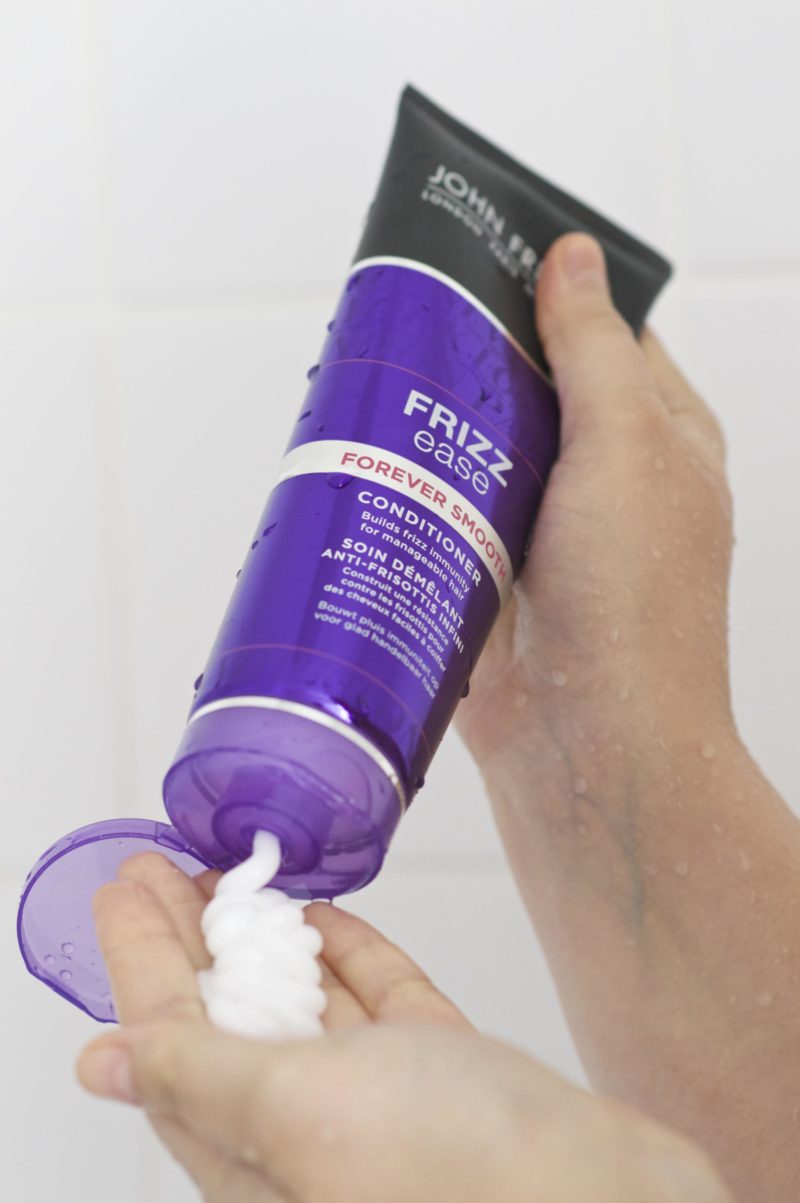 And finally, we come to the product that started this whole love affair with the Frizz Ease line off; the Original 6 Effects Hair Serum. As you would have seen in THIS POST, I have been using this product for years. It is my go-to product when I need my hair to behave, because I can rely on it to help control frizz and fly-aways. You only need a small amount (I use about a pump and a half on my hair), to make a dramatic difference to how hair dries and stays smooth even in humidity. The thick texture serum really coats each and every strand providing heat protection, taming hair and hydrating my dry ends. I also love to use this product as the base of a little hair concoction of oil and strengthening treatments that I mix in the palm of my hand before distributing throughout damp hair.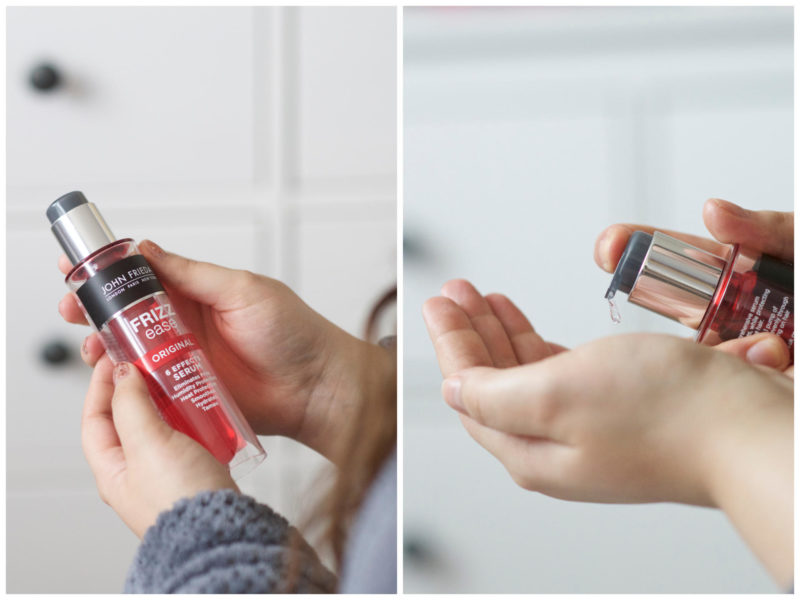 Whilst the Original 6 Effects Hair Serum was already a firm favourite in my collection, I have also been blown away by the collection as a whole. I will be repurchasing the Ten Day Tamer Pre-wash Treatment for it's ability to magically get my wild hair under control and have really loved working my way through the Forever Smooth Shampoo and Conditioner.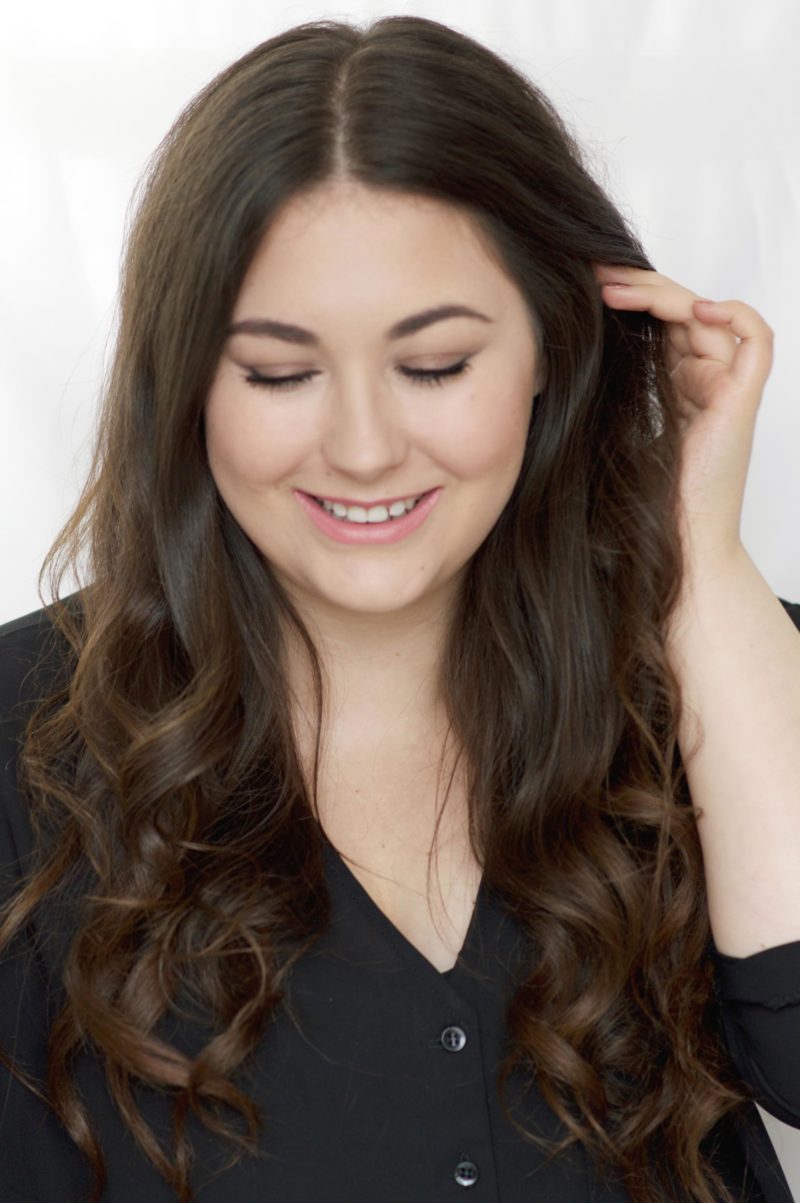 So have you tried anything from the Frizz Ease by John Frieda line? Let me know in the comments below. Also I would love to know what you think of the new, updated packaging of these iconic products, I think it's beautiful!
Sam
Follow Made From Beauty on Bloglovin'
unpaid post, all opinions are my own, contains gifted items