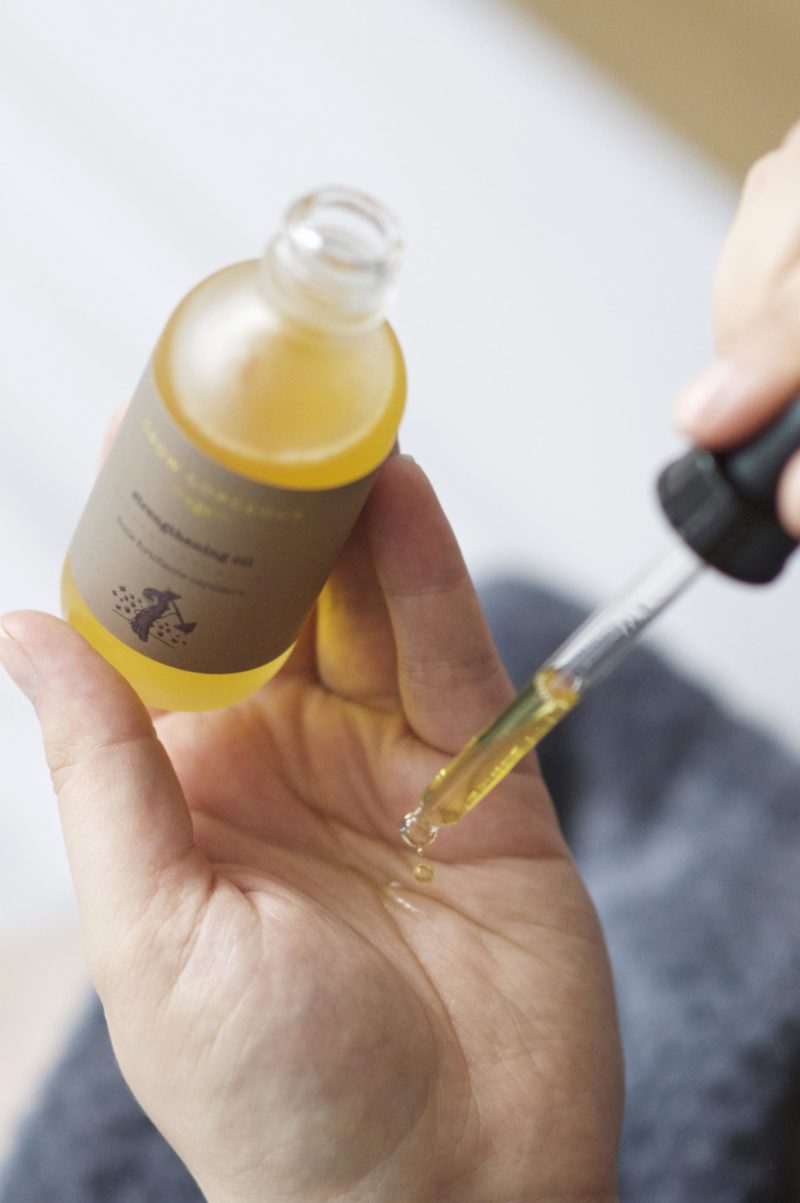 As I'm sure a lot of you will know, I have a lot of hair. It has been a while since I chopped off any sort of length from my mane, and currently it sits at nearly waist length when straight. That's all well and good and I love my long hair, but my issue is that a lot of my hair isn't in brilliant condition. It's not that I don't look after my hair; I spend a lot on haircare, I use hairbrushes and hair ties that do not damage the hair, but…I use heat on my hair, and a lot of it. With my hair the length it currently is, it takes me an hour to wash, dry and style it. So really, that's an hour of torture my locks go through at least three times a week!
Needless to say, my hair needs a little TLC! So when I saw the Grow Gorgeous Strengthening Oil I thought I have to give it a go.
If you read THIS or THIS post, you'll know I like to use oils on my hair as part of my daily routine to try to get some much needed moisture back into my lengths. And whilst a lot of the oils I have been using have made a good improvement on my locks, this Grow Gorgeous has some ingredients that sound like really really pack the punch I need. For example; there's a tone of omega rich Amazonian oil in this lightweight product. Packed full of Chia seed oil which contains vitamin B, D & E, Omega-3, Iron and antioxidants – all essential for healthy hair, this isn't just a pretty gloss to smooth the hair, but a powerful blend to help treat the root of the problem.
The first thing that struck me about the Grow Gorgeous Strengthening Oil is just how lightweight it actually is. I am used to using oils that are thick and gloopy, that coat the hair and hang around on it's surface for a while, but I've never tried anything like this! The oil is formulated to be a super quick-absorbing solution that my hair drinks up the moment I run it through the strands. Although my hair, with it's corse texture, can take a lot of normal textured oils, I have loved using a product that instantly disappears into the hair.
When I say disappear, that's not strictly true…because I could instantly see a beautiful difference to my hair from first application. Running the oil through my hair I saw it brighten and smooth, without weighing a single strand down. My hair was shiny, and seriously healthy looking (probably down to the Amazonian Brazil Nut and Sacha Inchi oils in there). The oil also helped my hair be more manageable, easy to brush, smoother to style – meaning I needed to use less heat – bonus!
Throughout the day the Grow Gorgeous Strengthening Oil protects against UV rays and pollution. And for when I am feeling a little naughty, and want to use a little extra heat, the oil helps protect against heat damage as well. It does this by creating a protective film around the hair shaft, avoiding protein loss and sealing the cuticle gently.
This could be the most gorgeous, lightweight yet nourishing oil I have ever put on my hair. I don't know yet if it will improve my hair strength over time, I'll report back on that. But, in the meantime, I don't mind using this beautifying, luminous oil to give me perfect hair – anything for you guys, ey?!
Sam