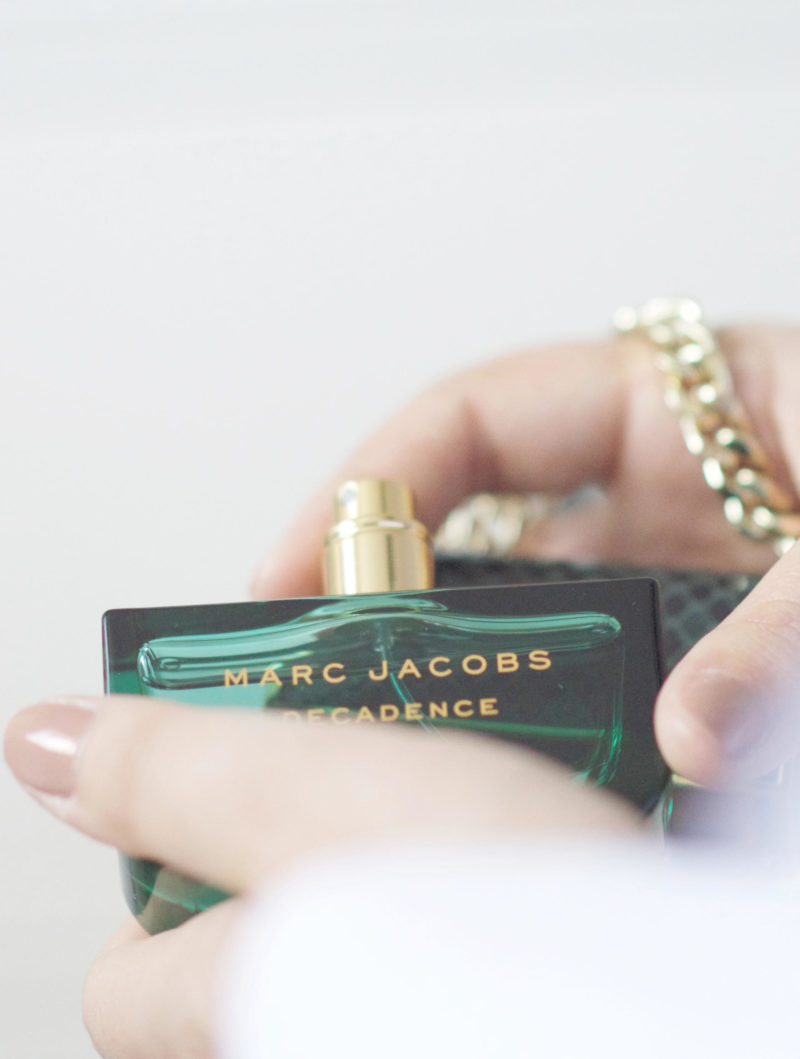 Scent is so important to me. It's one of my favourite things about beauty and it's always one of the first things I pick up on about a product. Since it had been a while since I have treated myself to a new perfume, I was on the hunt for a fragrance. I wanted a scent I could wear now and going into the colder months (yes, I'm one of those people who has cold and hot weather perfumes). So I didn't want anything too heavy, but wasn't too fussed by anything floral. So the Marc Jacobs Decadence was the perfect pick for a transitional fragrance.
Now I know said I wasn't too crazy about floral scents, so the notes of this perfume might seem a little strange for me to have fallen in love with. But there's the perfect amount of feminine charm in this little bottle with iris flower and opening notes of Bulgarian rose. It's these light touches of flower power that make the scent luxurious and easy to wear, without being too heavy or 'night-time only' if you know what I mean?
On the skin the fragrance dries down to reveal base notes of vetiver, papyrus woods, and liquid amber which coupled with the sensual saffron and Italian plum make for just the right amount of smokiness.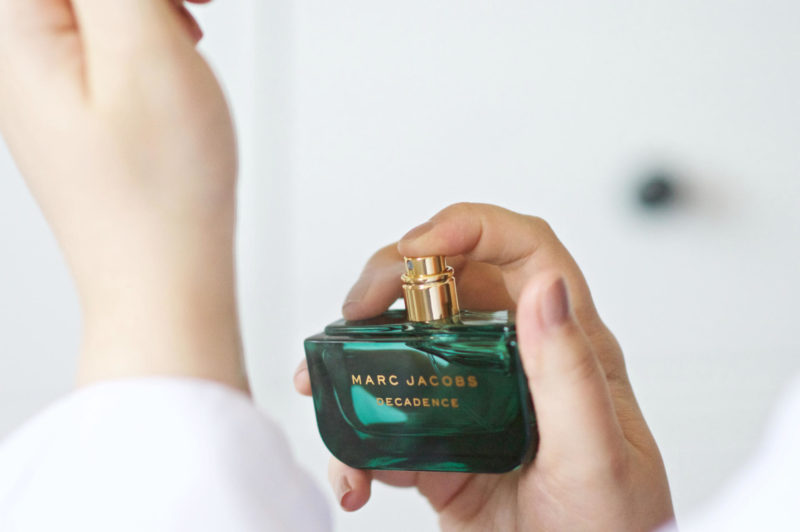 Previously my favourite scent had been the Armani Code, which makes sense as the two share the same warmth and depth of fragrance. Whilst Armani Code still holds a place in my heart (it was my first proper perfume when I was about fourteen), the Marc Jacobs Decadence is quickly becoming a firm favourite for everyday wear. This certainly isn't because of the packaging. To be honest, I would go so far to say that I hate the packaging. I am a fan of the dark green glass, but that lid – wow – I really don't like it. It's a real shame really, I like lots of the Marc Jacobs perfume packaging normally, but the python print, bright gold chain stuff they have stuck all over Decadence is a real let down. Considering this is not one of the cheapest perfumes out there, I think the bottle looks a little tacky. What do you think?
I am totally in love with what is inside the bottle though and am so glad I picked up this luxurious, glamorous fragrance!
Sam