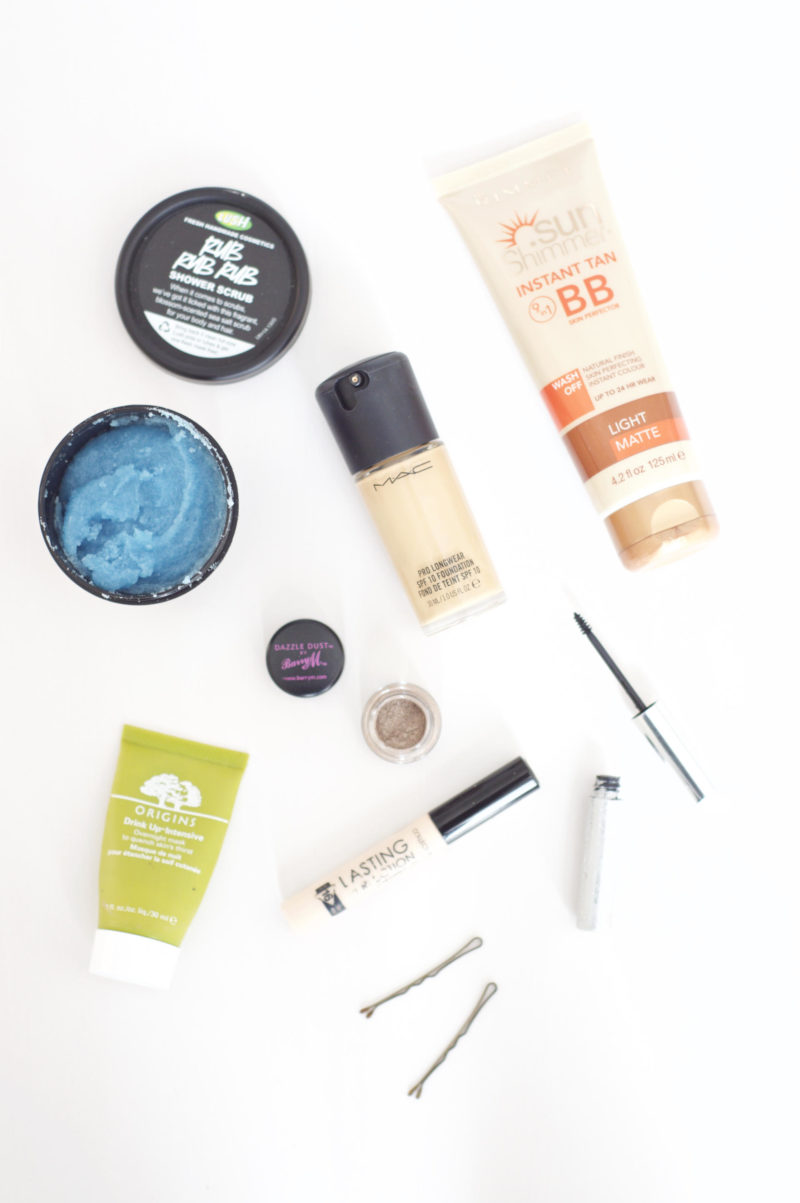 Now it's been a couple of years since I have been at uni, but beauty wise, I still use lots of the products I fell in love with back then. In today's post I'm going to talk through those products that are great for perking you up after a heavy night, the ones that will see you through exam season and those that are just too affordable to miss when you're working with a student budget.
Rimmel Sunshimmer Instant Tan BB Perfector Light Matte
When I was a student I have to admit I wasn't all that organised (how I managed to come out with a decent degree I will never know), and even for a beauty junkie like me, I have to say fake tanning was pretty far down on my list of important things to do. But just because I didn't always plan to bronze up two days ahead of a big night out, doesn't mean I was going to be the only one dancing the night away with pastey pins. For those days where I wanted a little extra colour I reached for the Rimmel Sunshimmer Instant Tan BB Perfector Light Matte. This product is perfect for a natural looking colour which smooths over imperfections on the skin and lasts all day and night – I can say from experience this can outlast a long night of dancing away.
Back in the days of big hair and a lot of hairspray, my hair used to get weighed down and lack-lustre, after a week of backcombing and more mousse than was absolutely necessary (I was in to burlesque nights back then and it was all about making a statement). Although I have written this post all about this super budget friendly clarifying shampoo, in university repurchased the LUSH Rub Rub Rub Shower Scrub time and time again to bring hair back to life. Formulated with natural sea salt and lemon, this product gently scrubs away at the scalp, removing any product build-up, and giving hair a weightless, volumised look with added shine.
When it came to makeup, I was all about the long-lasting, matte complexion, and although that isn't a look I rock any longer, I can still appreciate these products! I have been through countless bottles of the MAC Pro Longwear Foundation. I find this is great if you are looking for a foundation that will not budge, will last through long lectures and is even semi-waterproof. I like the fact that this is pretty weightless on the skin, however it is a little too full coverage for me day to day now, but good to have in my collection for bad skin days.
Collection Lasting Perfection Concealer
To keep those awful eye bags under wraps (being a student = lots of late, late nights) and to conceal a whole multitude of skin sins, I constantly have the Collection Lasting Perfection Concealer in my makeup collection. This affordable, easy to blend, high coverage, long wearing concealer is truly a hidden gem on the highstreet. It's become a bit of a beauty buff's go-to budget concealer, and for good reason!
Talking of long lasting makeup, when I started at uni I found that after a day of study I always had mascara smudged under my eyes. I tried lots of different waterproof formulas, from lots of different brands, but nothing seemed to work. So in my second year I finally invested in the Clinique Bottom Lash Mascara, which at the time I thought was a very extravagant purchase, but looking back now it was one of the best beauty buys I've ever made. I find now that my top lash mascara rarely smudges, and so I can try out new formulas up top and then stick to this old faithful on the bottom. This is now my fourth tube and I hate being without the stuff!
Origins Drink Up Intensive Overnight Mask
During university was the first time in my life that I truly got into skincare. Before then I had messed about with peel-off face masks, tried a little rose toner here and there, but never before had I thought about looking after my skin. Looking back now, this product has to be a miracle, because it managed to keep my skin looking alive even through all the drinking and late nights, it is of course the Origins Drink Up Intensive Overnight Mask. I still religiously use this mask if I've been bad with the beauty sleep or had a few too many the night before and it is testament to how much a little hydration can do to the skin.
I'm surprised I have any of this product left, I used to love piling this on for a big night out back in the day. It's a pain to work with, the key word here is 'dust', as it has a habit of flying everywhere, but I find a little MAC Fix+ can help them and give this seriously glittery shimmer a foiled effect when patted onto the lids.
If you went to uni, why not tell me what your beauty favourites were back then? Or if you didn't go, can you remember the products you used to love when you were younger? Let me know in the comments below!
Sam