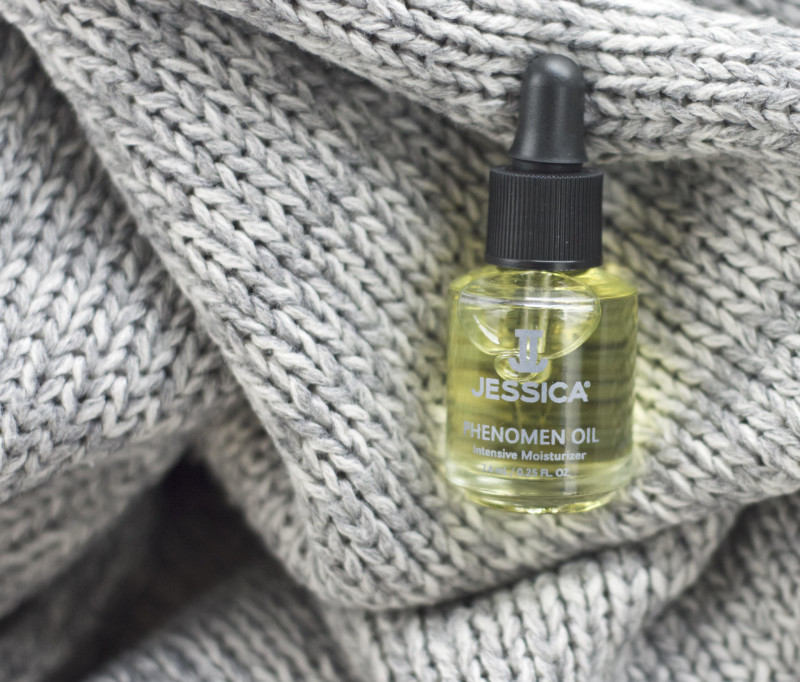 Jessica is a professional nail care brand created by Jessica Vartoughian after decades of looking after celebrity nails. Whilst my mitts might not be as famous as the hands of Jessica's regular clients Barbra Streisand and Diana Ross, they deserve a bit of TLC too. I've tried out polishes from the brand in the past and been very impressed by the professional formula, but the Phenomen Oil is the first nail care product I've tried from them and honestly, it's stolen my heart! It's been at my bed side for two months straight, I'm applying it at every chance I get!
This sweet smelling, light oil is formulated with Vitamin E, jojoba, Sweet Almond Oil, Rice Oil to bring maximum moisture to nails and cuticles. We've all heard the saying 'a little goes a long way' when talking about lots of beauty products, but for this oil its completely true. The pipet allows you to precisely drop a single, small drop onto the nail beds to get that hydration straight to the areas that need it most.
In the winter (although we have officially just hit Spring hooray!) my hands and nails can get very dry and tight. Things aren't made much better considering I'm in and out of heated areas, and work in an air conditioned office. Throughout the colder months my cuticles can be particularly dry and flakey, so it's always important for me to pay them a bit of extra attention.
The way I love to use this oil is by applying a small drop to each nail once I'm in bed, before my hand cream. I gently massage the product into my cuticles and nails to promote circulation and healthy, strong nails. The product penetrates quickly, without leaving any greasiness behind and always feels like a luxurious treat at the end of the day.
I have been using it every night before bed for the past two months and it has improved my nail strength hugely. Before I brought this product into my collection I was unable to leave my nails without polish as they were so weak (beauty addict problems) but now that's all changed! I haven't seen a huge difference in nail growth throughout the last few months, but the way the Phenomena Oil has boosted their strength is unrivalled by any other product I've ever tried.
Jessica also say that this product can be used on elbows, feet, knees and other areas of rough dry skin that need deep moisturisation and whilst I imagine the oil would be amazing for this, I can't bring myself to use it like that – it's far too precious!
The product has won lots of awards in its time and I can see why; after only a couple of months my nails are strong, cuticles healed and the skin on my hands is supple. So have you tried the Jessica Phenomen Oil? Or maybe you have another cuticle oil in your collection that you love? Let me know in the comments below!
You can also Save 20% until 03.04.16 at John Lewis on this item by clicking on the link HERE
Sam
Check out Made From Beauty's Shop HERE