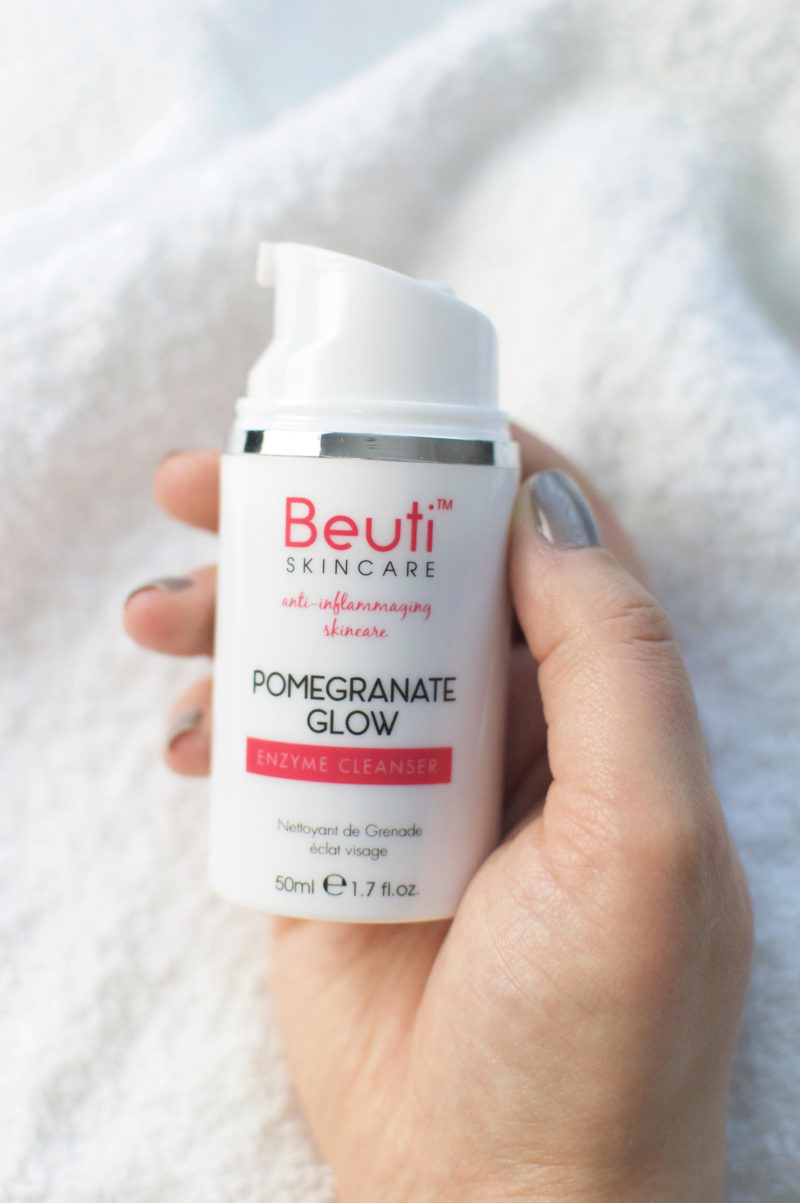 Good skin starts with good cleansing. This has been my motto over the past few months. I don't know what it is (maybe stress, maybe diet) but I have been suffering from blemishes since about October last year. Don't get me wrong, I know I'm lucky, I haven't had serious acne. But I have had what feels like consistent small blemishes popping up all over my face one after the other.
Since this struggle started not only has my concealer usage gone through the roof but also has my obsession with skincare. I've been occasionally mixing my skincare up to see if there are products out there my skin agrees with more & in the process have found some really beautiful formulas and brands.
One of the products I have fallen head over heels in love with is the Pomegranate Glow Enzyme Cleanser from Beuti Skincare. From the first use, the texture of the cleanser had me hooked. Featuring a 3 flower essence, the gel balm hybrid used fermented Pomegranate to gently exfoliate and cleanse skin. Inside the bottle, you will find a luxurious, thick cleanser rich in rose clay to help cleanse and refine skin texture, with a healthy dose of Copaiba Balsam to soothe and protect.
Although I do not use this cleanser to remove my makeup normally – but more of my second cleanse products – to make sure I'm getting the best of those ingredients. When I have used the Pomegranate Glow Enzyme Cleanser to get rid of a full face of slap it has done a brilliant job; leaving skin clean whilst not tight or stripped.
The cleanser can also be used as a mask once a week. This allows time for the products enzymes and honey to get to work decongesting the skin. I like to pop on a thick layer and relax for 5-10 minutes before washing off in circular motions for a little extra exfoliate. The thick gel-balm transforms into a milky consistency upon contact with water.
Overall I have really enjoyed using the Pomegranate Glow Enzyme Cleanser from Beuti Skincare. The texture is lovely during the winter – when I would normally reach for a balm cleanser – for soothing the skin and feeling nourishing to use. As I'm a bit concerned it might be too rich for my skin at the moment, I have cut back to using it only once or twice a week, but it's a product I can see being in my rotation for a while.
So do you want to try the Pomegranate Glow Enzyme Cleanser from Beuti Skincare? Let me know in the comments below.
Sam
Shop this post:
unpaid post, all opinions are my own, contains gifted items