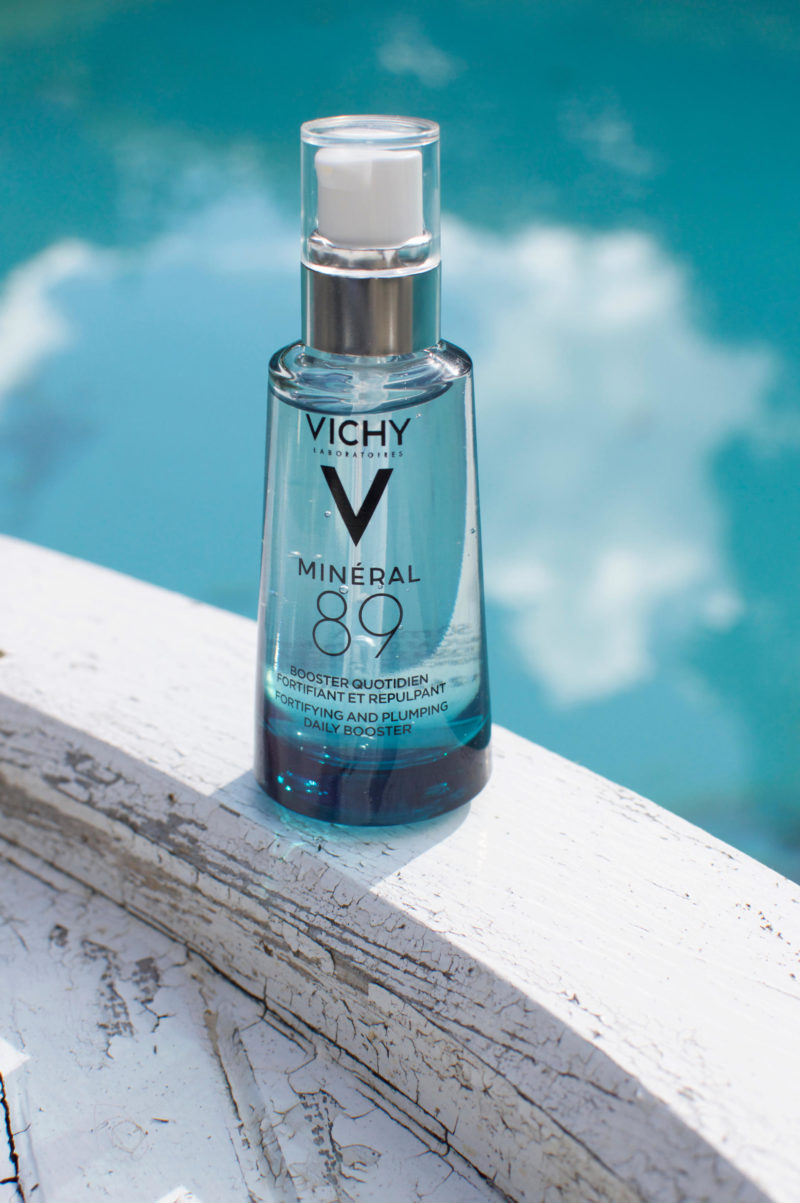 If Thursdays post (HERE) wasn't enough skincare for you; you're in for a treat today! Most of us need a little more hydration in our skincare routine. If you have dry skin, oily skin, blemish-prone skin, chances are your skin is lacking in moisture and that's what is sending it into a panic. So finding new ways to slot more hydrating products into my routine is always something I'm working on. After receiving the Vichy Mineral 89 Serum in my monthly Look Fantastic bundle, I might have just found the perfect way to add another layer of hydration into my skincare and I've been dying to share it with you.
Sometimes I feel like no matter how many rich creams, or balmy cleansers I reach for, my skin is still begging for more moisture. One of the best ways to treat any skin concern is with a serum. Classically, serums are where skincare ingredients come out to play. There are so many of the market, with so many claims. So finding one for simple hydration can be a bit of a challenge. That's where the Vichy Mineral 89 Serum comes in..
The lightweight, gel-serum has become the most welcome addition to my skincare family over the past month. After cleansing and toning, I pop on one pump of this serum and then finish off my routine as normal. Just being able to pop this product into my (already well established) routine is one of the reasons I have fallen in love with it so quickly. I hate having to change everything to get the benefits of one product – so it was great to just add this serum in.
The gel texture means the serum sinks straight into the skin, without leaving any residue or stickiness. My skin feels instantly hydrated, softer and more plump. The product has been such a pleasure to apply during the hot weather as well, as it has a cooling and soothing effect on my skin.
With only 11 ingredients and totally fragrance free, this serum is perfect for all skin types, even those with the most sensitive of skins. The 89 in the product name also comes from the fact that the serum is 89% Mineralising Thermal Water from French volcanoes. If you are familiar with Vichy's products, you'll probably know they are famous for the use of Thermal Water in their skincare. The Thermal Water is enriched with 15 rare minerals including calcium and magnesium which work their way into the skin wit continued use to help look after the skin from the inside out.
After adding the serum into my routine, layering it with other products and reaching for it morning & night; I can definitely see a difference in my skin. I had been getting a few dry patches around my chin area, and these have completely cleared up. In fact, I have been feeling so happy with my skin this month I have stopped wearing foundation during the day & swapped to just THIS product and a bit of concealer.
So would you like to try the Vichy Mineral 89 Serum? Let me know in the comments below!
Sam
Shop this post:
For more info on #TheBeautySet Look Fantastic ambassadorship click HERE
unpaid post, all opinions are my own, contains gifted items