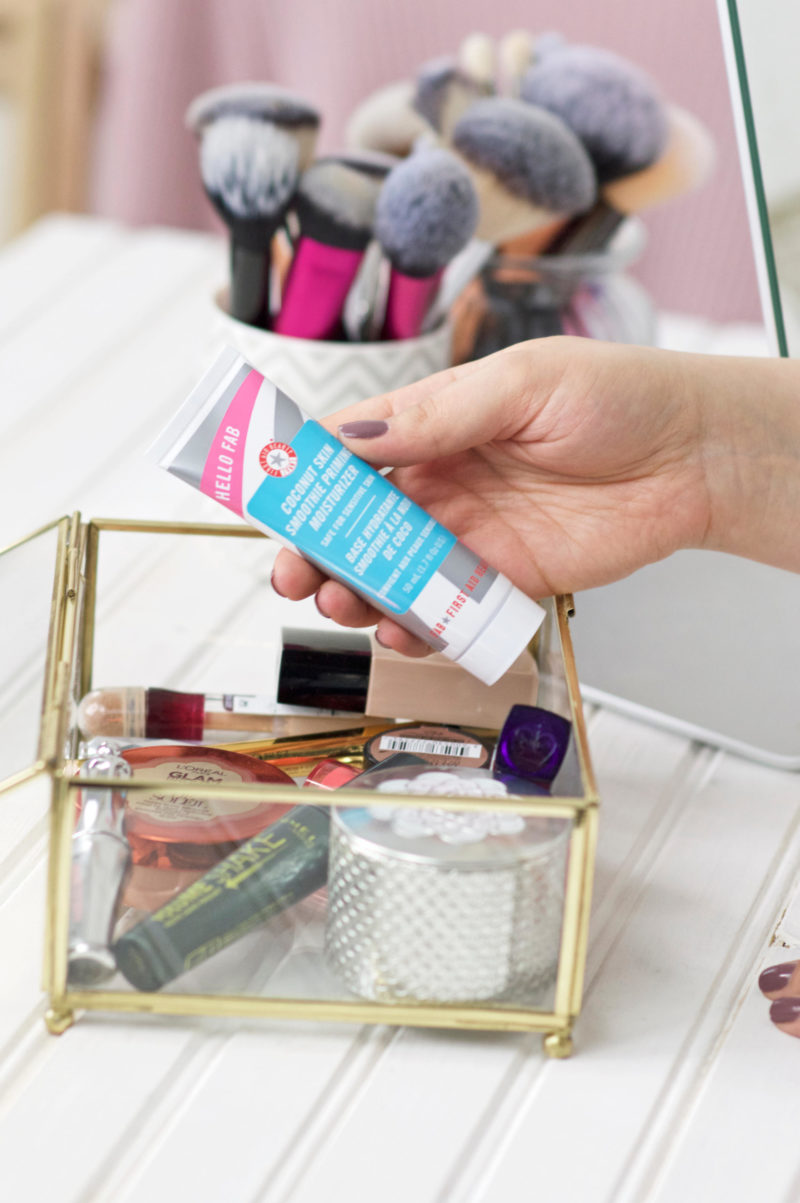 Between primers, prepping sprays and moisturisers there are lots of different ways to start your makeup routine. It can sometimes feel like you have applied a full face, before you've even reached for the makeup. If you count moisturisers, sprays, eye primers, illuminating primers, pore filling primers – the world of priming can be difficult to navigate. What do I need to use? What is worth using? Will all this stuff help my makeup apply and stay in place?
Well, today I have a brilliant one-product-does-it-all wonder; the First Aid Beauty Coconut Skin Smoothie Priming Moisturiser. Don't let the long name fool you, this is one simple product that will prime and prep your skin for makeup in one simple step.
I hadn't actually tried a whole lot from First Aid Beauty before buying this product. But, my mum has been a fan of the brand for a while. I have told you guys before, but she has quite dry skin and suffers from psoriasis, so she has to be careful with what she puts on her skin. She has used their Ultra Repair Cream for years, and it's a product I have liked when I tried it too. For me, when I think of First Aid Beauty I always associate their products with being very nourishing and calming. So, when I was on the hunt for something to nourish my skin, under makeup, throughout the day, they were a natural choice.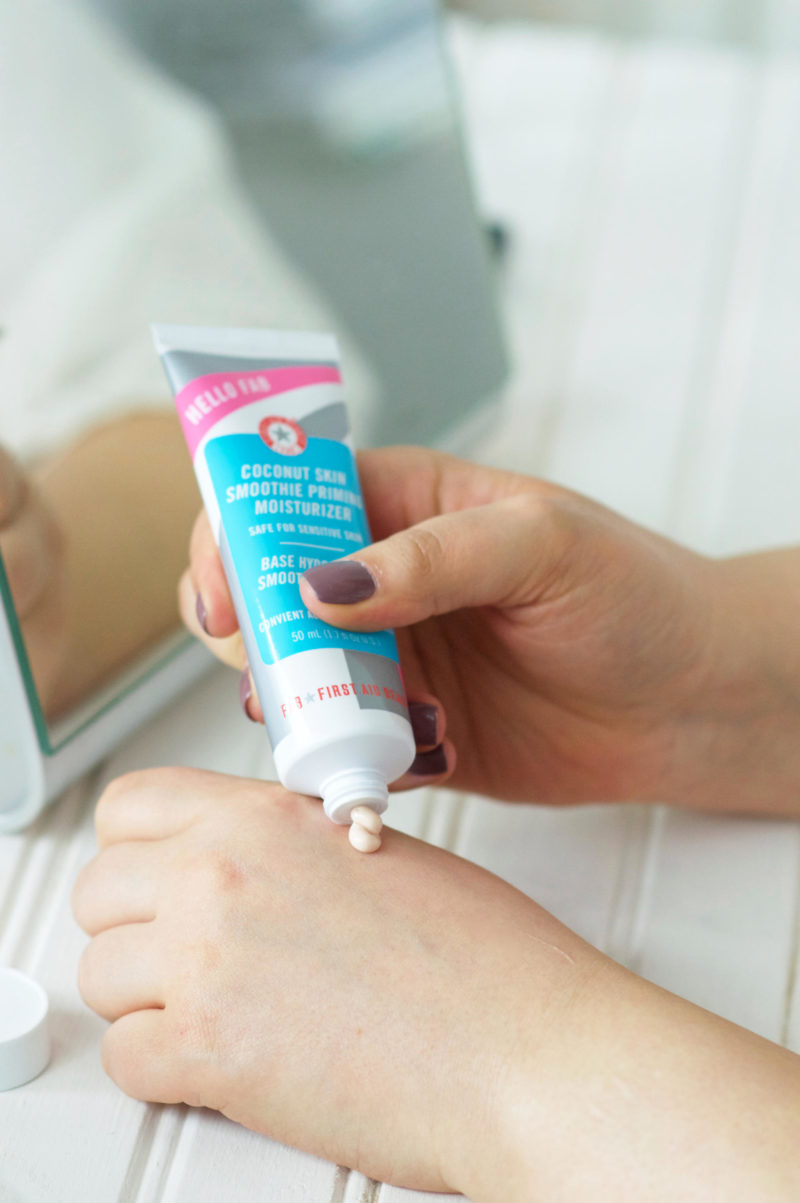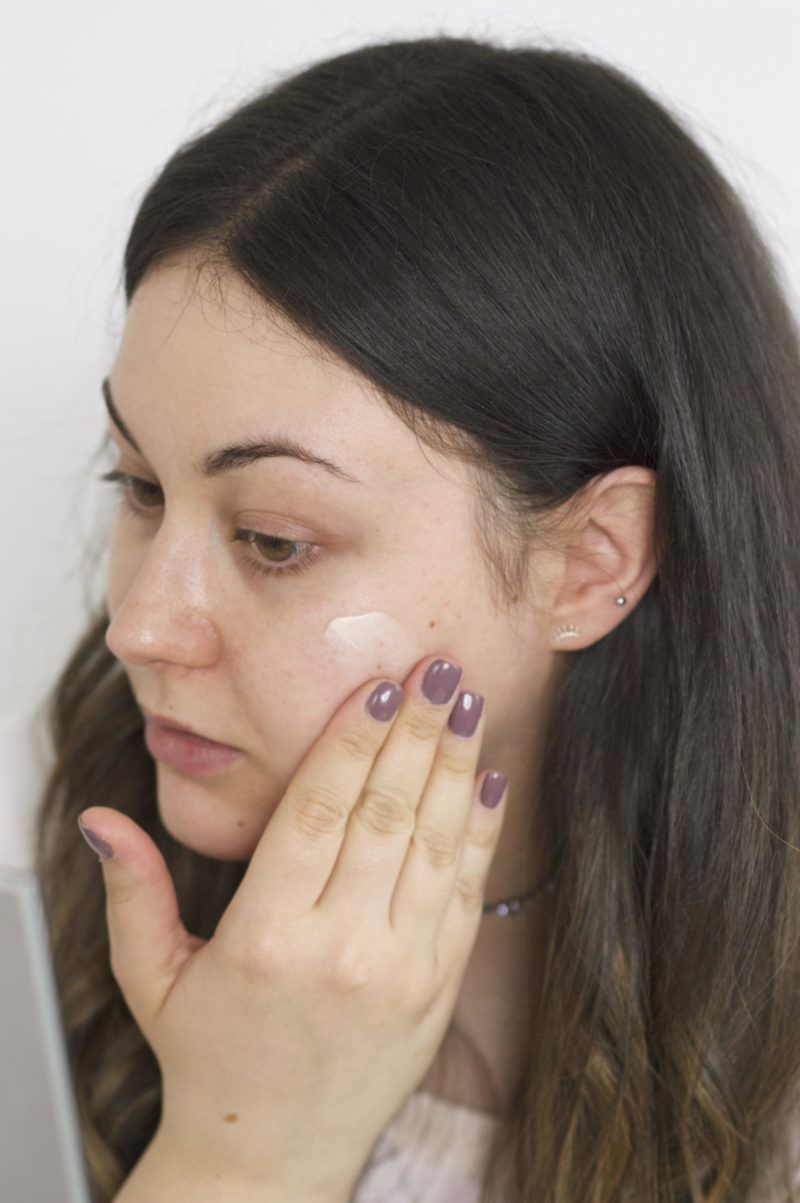 I had read a little bit about the Coconut Skin Smoothie Priming Moisturiser before I purchased it and wasn't convinced it was going to do much in the way of priming the skin – I was wrong guys, let me tell you…
The moisturiser has a slight silicone feel when applied, which is the primer part of the formula. The Coconut Skin Smoothie Priming Moisturiser will slightly blur over texture and pores, whilst nourishing and hydrating all day long. Oily skinned girls will be glad to know this moisturiser is oil free and it's suitable for all skin types.
I normally reach for illuminating primers because I am always looking to add more radiance to my skin. So, I love the slight irradiance the product has, giving the complexion a glowy finish. It isn't enough to that you look overly dewy or shiny, but just enough for that lit-from-within look. I find that the slight 'slip' the product gives to my skin means my foundation glides onto the skin like a dream – a few bops of a Beauty Blender and I'm done!
So does it make my makeup last longer?
Yes. A bit.
I can't say the Coconut Skin Smoothie Priming Moisturiser is the best product I've used for keeping my makeup in place, but it isn't bad. The major benefits of this product (being nourishing, glow-giving and lightweight) were enough for me to fall totally in love, without getting hung up on the staying power of makeup.
Have you tried the Coconut Skin Smoothie Priming Moisturiser? Or any other products from First Aid Beauty? Let me know your thoughts in the comments below!
Sam