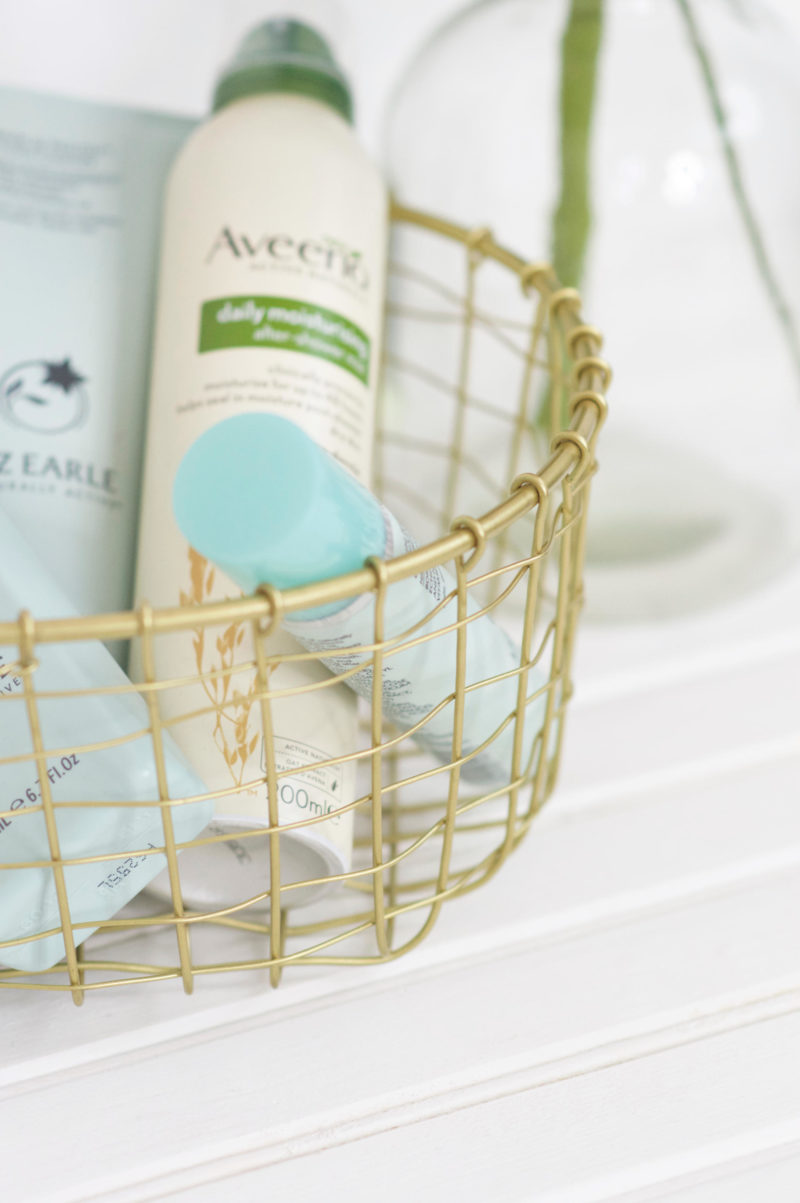 So a bit of a life update to start with: I have moved back into my mums house. It isn't something I'm ashamed of, and I think it's becoming more and more common these days. But Josh and I just couldn't take spending 80% of our income on rent and bills any longer. We really want to save for our own home, but it was just impossible living in a rented house. So, a few months ago we moved back with mum. We are incredibly lucky to have a family home to go back to, but it hasn't come without its difficulties.
The first of which has been fitting three people's stuff into my mums home. She has been an absolute babe and gave up her bedroom for me and Josh – I mean, come on, mums rock! Moving her room into the smaller back bedroom has meant we have had to be creative with storage. And although we haven't quite got the house back to normal, it was about time mum got some nice pieces for her room to make it feel a little more homely.
When I think of places to pick up pretty homeware, I always go straight to Homesense. I have always found the store has so many unique pieces, at affordable prices. So last weekend mum and I set off on a little 'make mums room pretty' mission.
The first thing we knew we needed to pick up was some sort of storage. Mum doesn't use a whole lot of beauty products on a daily basis, but she needed something to help organise her dressing table and bedside table. We saw this lovely gold coloured basket and snapped it up! It is just the right size for mum to store some skincare and hair products. I love the way you can easily see the products, but it keeps it all neat and in one place.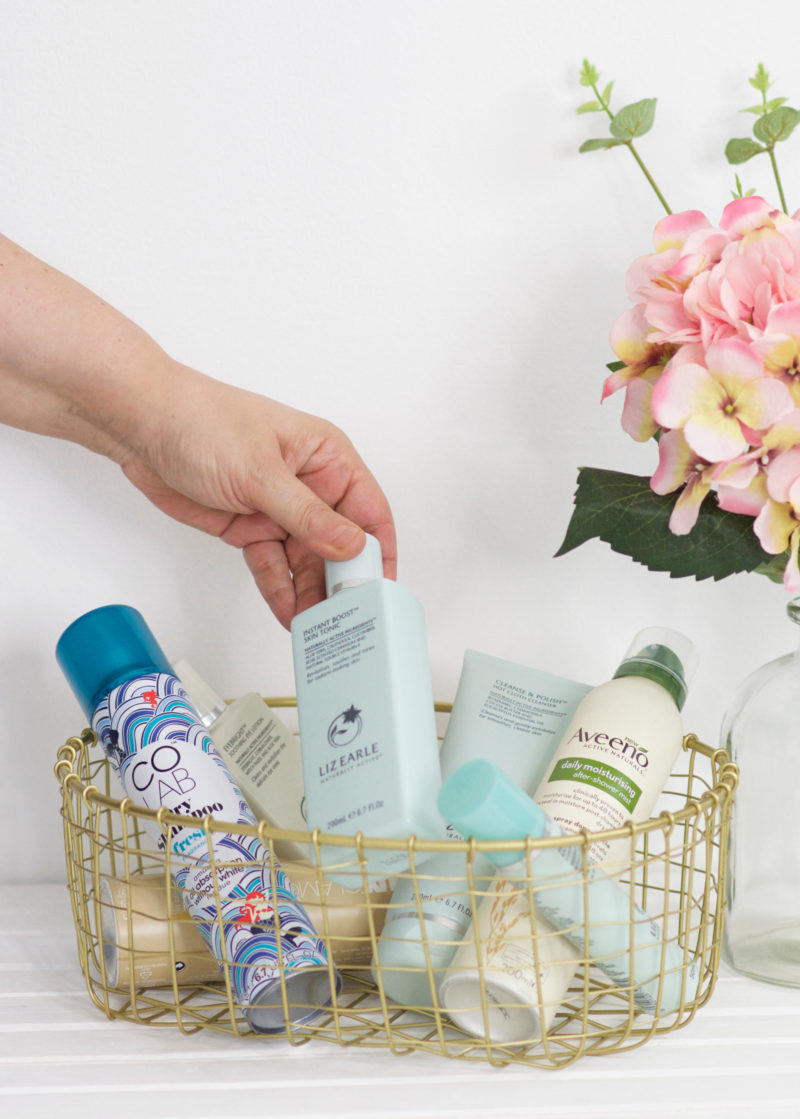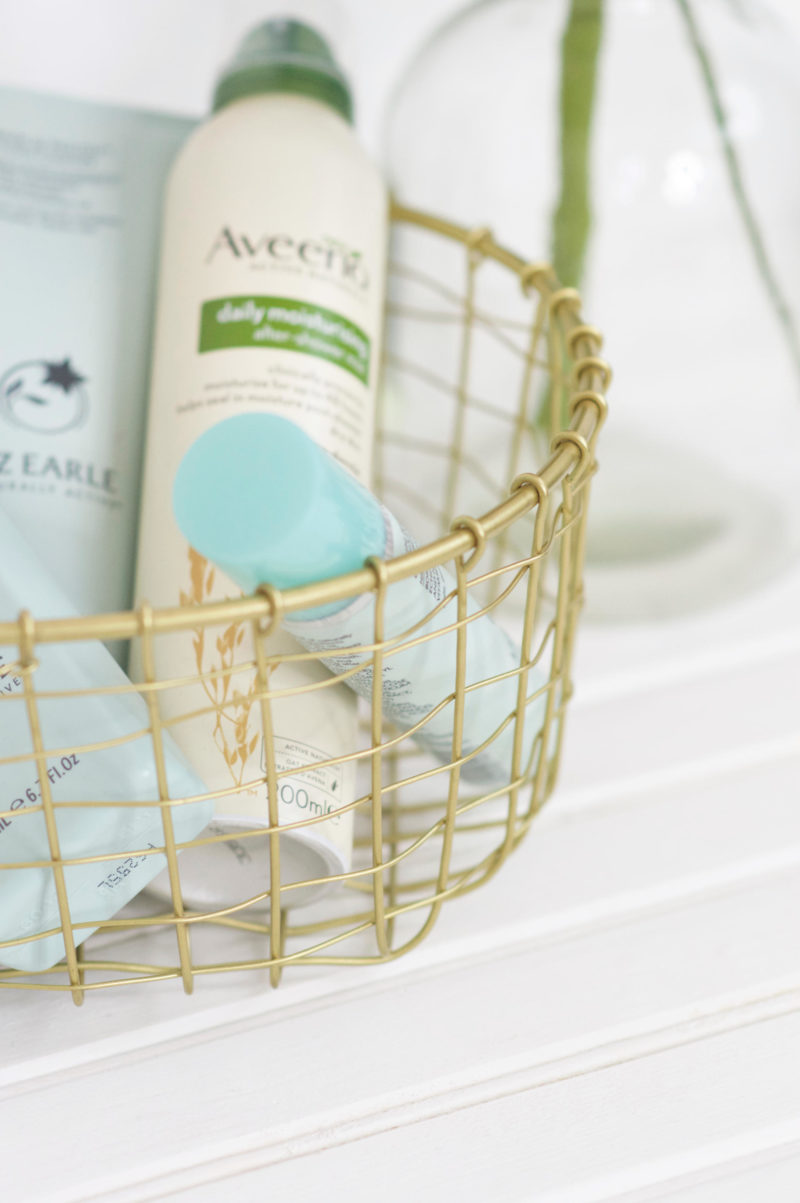 For her bedside table, mum wanted something she could keep her hand cream and lip balm in. We toyed with the idea of smaller baskets or wooden boxes. But then we found this beautiful glass dish in the dinning section. I think this is originally designed as a food platter, but it is just the perfect size for a couple of beauty products and jewellery.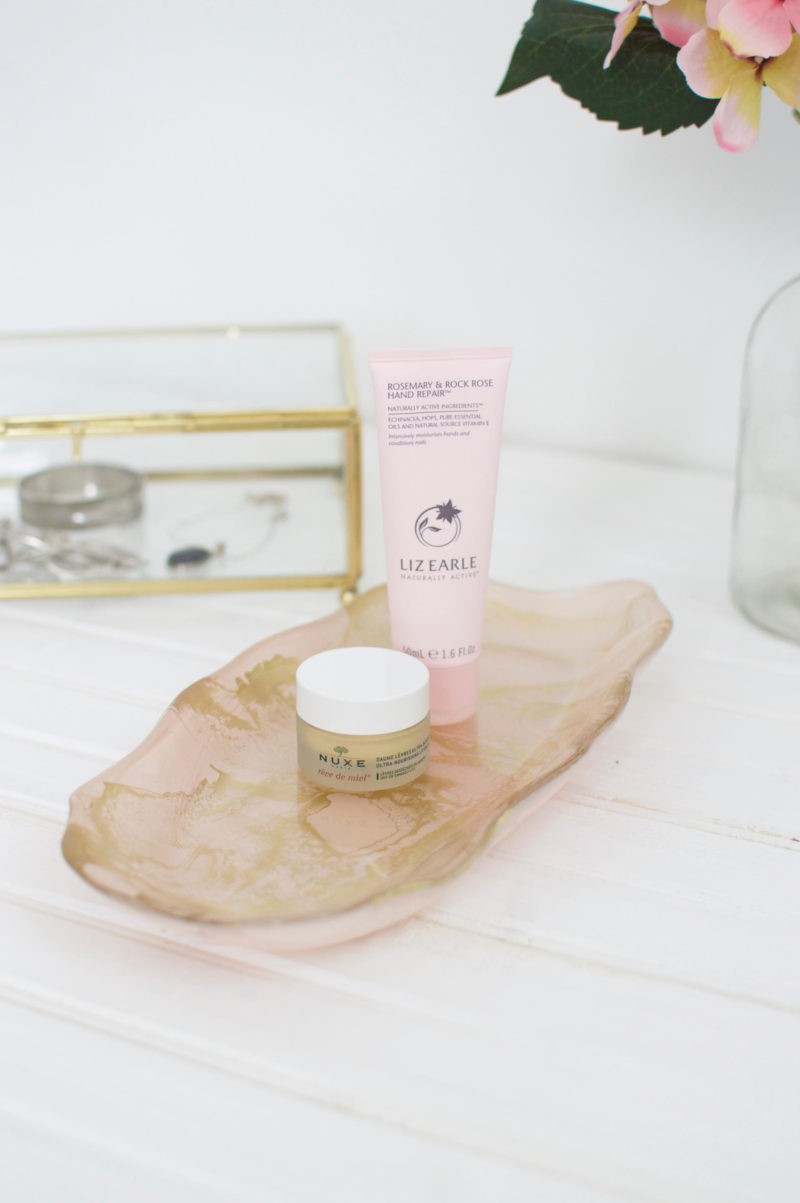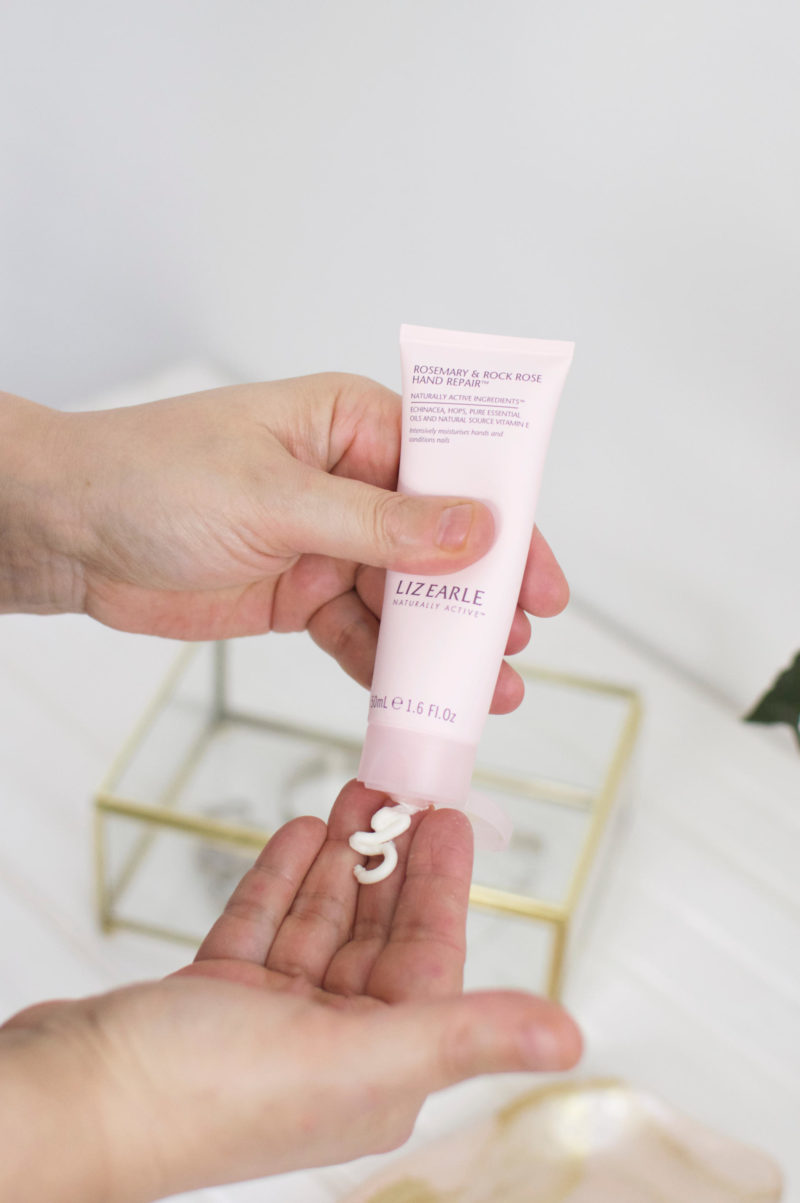 When it comes to hand care mum loves the Liz Earle Rosemary & Rock Rose Hand Repair. Her favourite lip balm is the Nuxe Reve de Miel.
Mum also needed something to keep her everyday jewellery in, and she loved this glass and gold box. This is a lovely size, it would be good for makeup, jewellery or sunglasses. It looks so pretty next to the gold wire basket we picked up and mum has been loving it.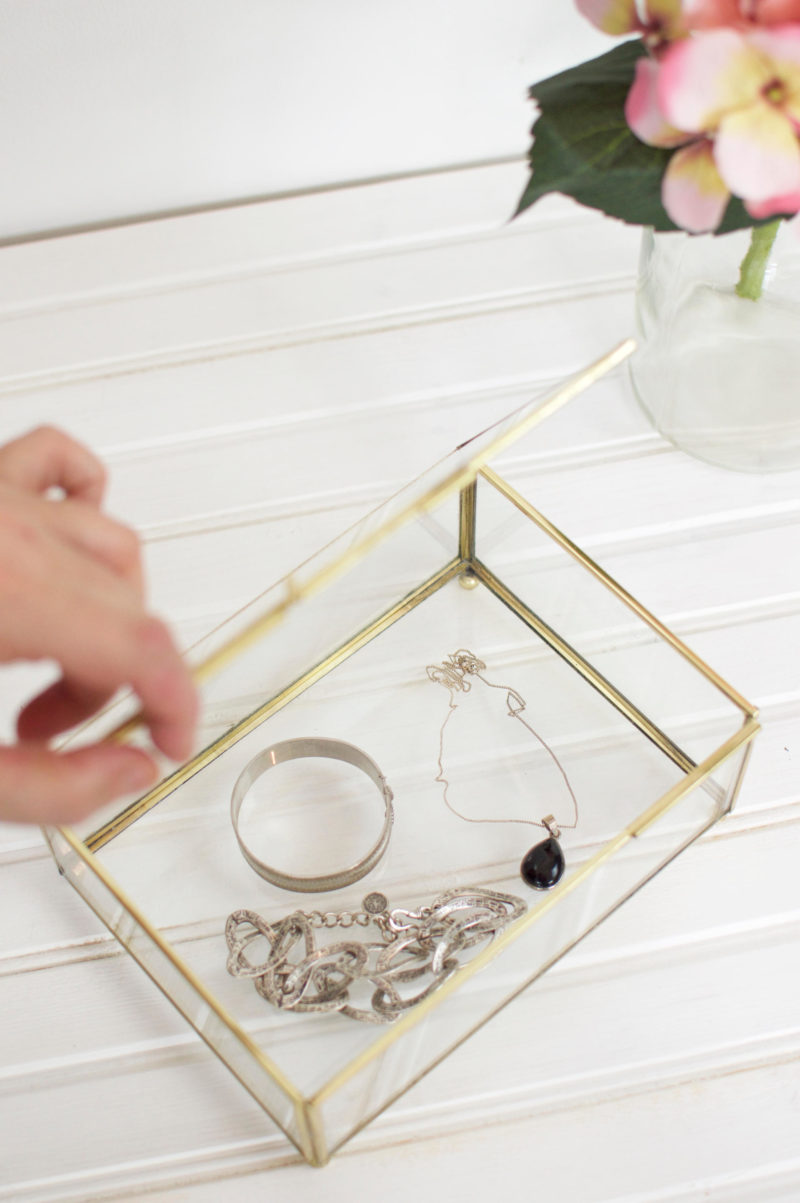 Finally, we couldn't resist the beautiful fake flowers in store. Homesense have an incredible selection of fake blooms! I find it hard to source good quality fake flowers, which don't look… too fake, but always manage to find something in Homesense. Mum absolutely loves the pink hydrangea head and the pretty greenery.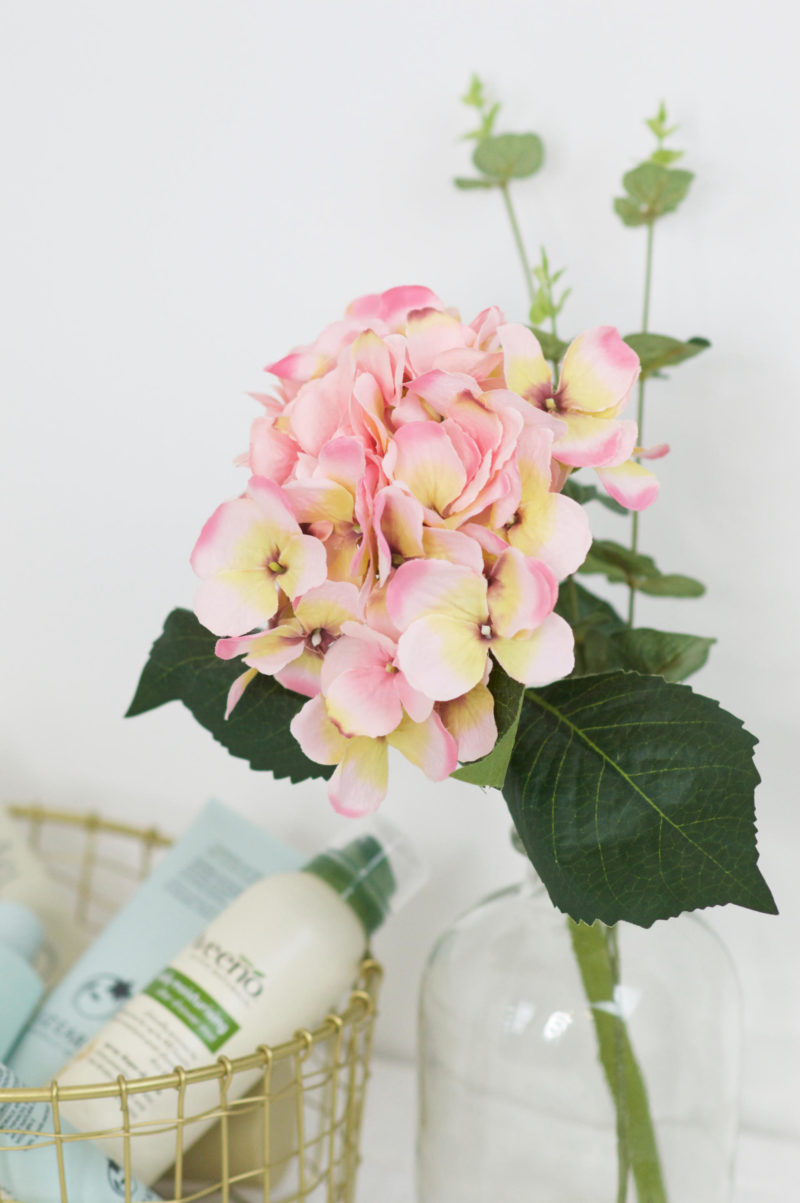 Homesense have some absolutely lovely items in store at the moment. I love that that change their stock frequently and sessionally, so it was very easy to find some fresh spring touches for mums room. These items were part of mums Mother's Day present, but I could easily go back and pick her out some more things to wrap up for the day.
So what are you thinking of getting your mum for Mothers Day? Would you treat her to some items from Homesense? Let me know in the comments below!
Sam
Follow Made From Beauty on Bloglovin'
unpaid post, all opinions are my own, contains gifted items.