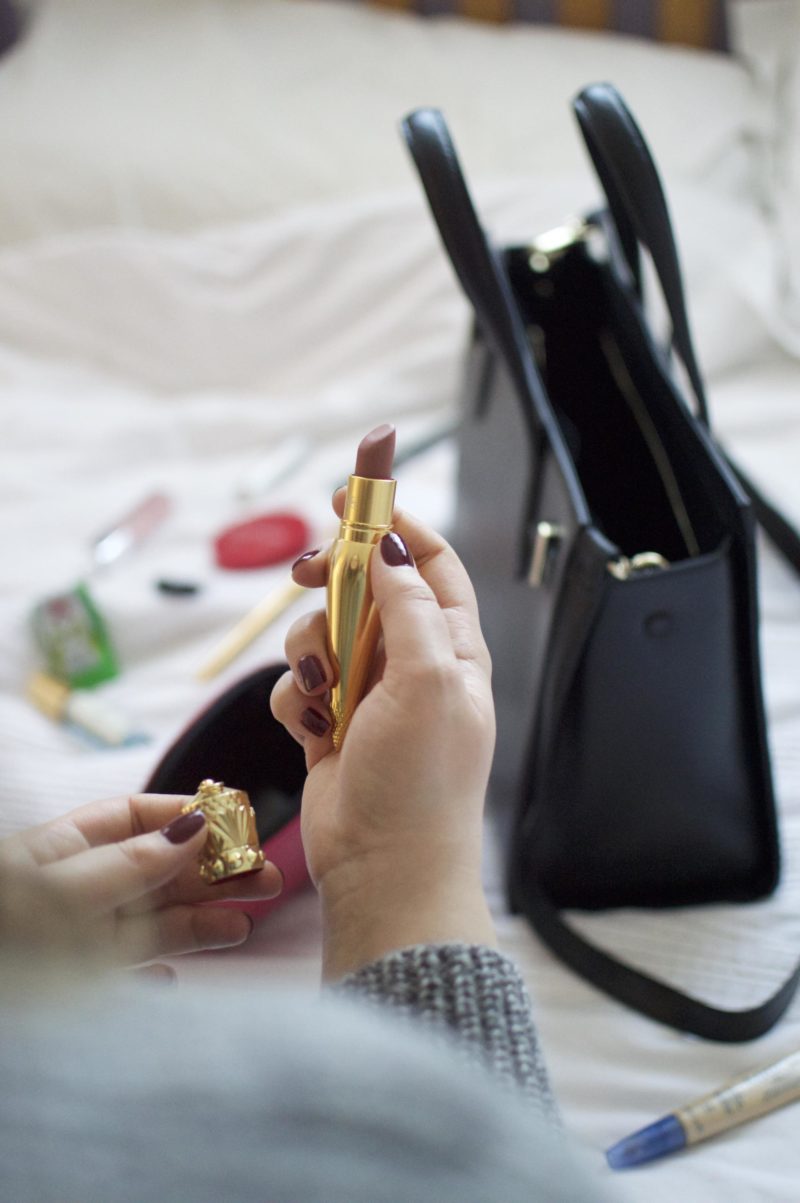 So with a new bag always comes a new What's In My Bag! But this time, I thought I'd skip to the good stuff, and just dive right into the beauty. As a self confessed beauty addict, you can always rely on me to have a few beauty tricks up my sleeve (or at least in my bag)! These are the items I carry around on a daily basis. They are the ones I swear by, and I know I can always depend on to keep my makeup looking on point!
First up; the bag. For christmas, Josh gave me this gorgeous handbag from Marks & Spencer's. It is real leather and such a good size for everyday. I like a bag that I can fit in all my beauty bits, my laptop, purse…you know.
I keep almost all my beauty things in this little Dior makeup bag that the brand kindly gifted me last year. I don't actually think you can purchase this online, but I just find it's such a great size for beauty items. At the top of this little pouch I always keep some tablets.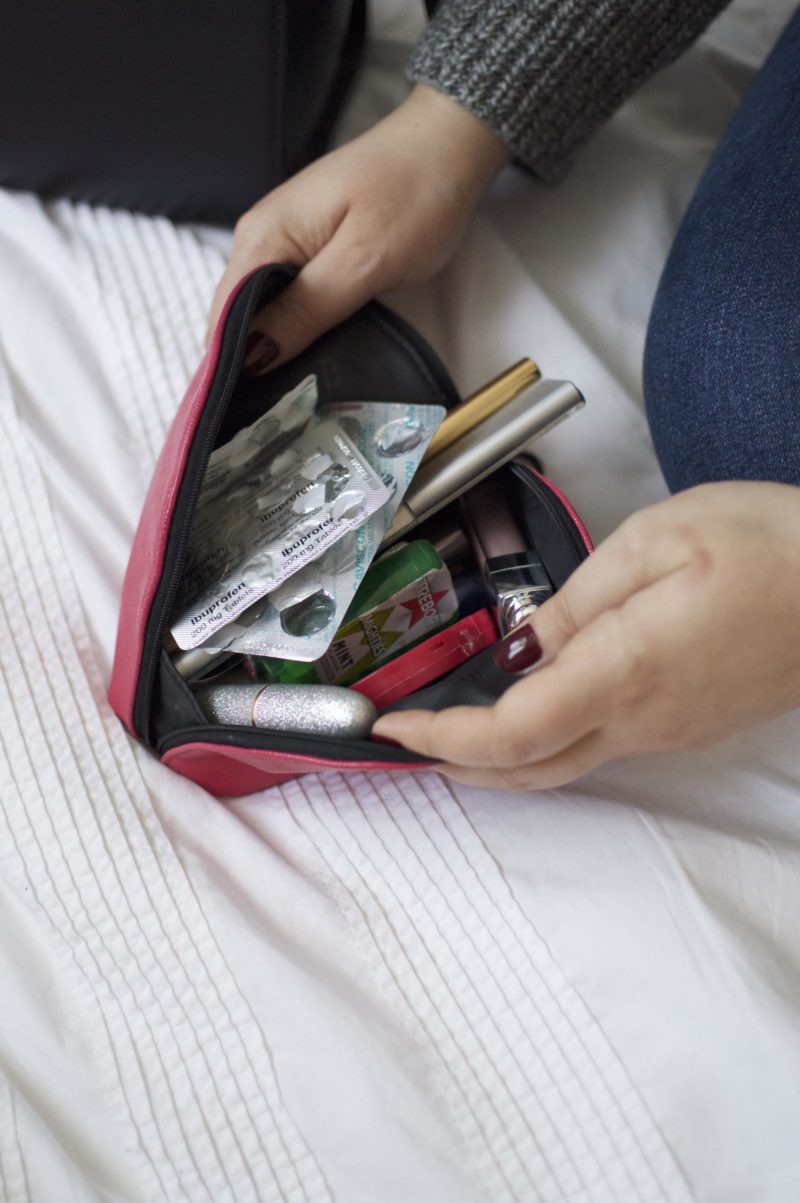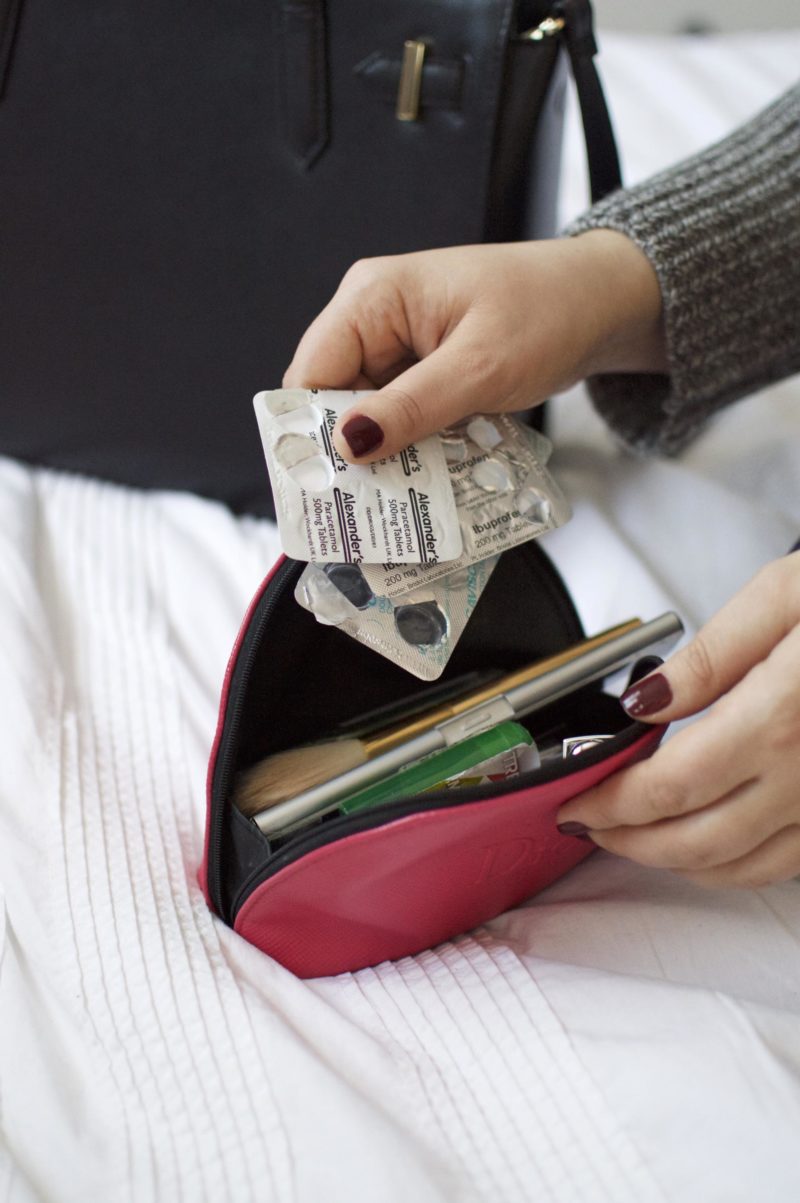 The first beauty product I keep on hand is a powder. I like to carry around the Bourjois Healthy Balance Powder as it is a great, lightweight powder which is finely milled. I feel like you can pile this product on (which is great if you are reapplying throughout the day) and it never gets cakey. I use this little Tarte brush with the powder, simply because it is small enough to fit in the bag, but it's not a bad brush.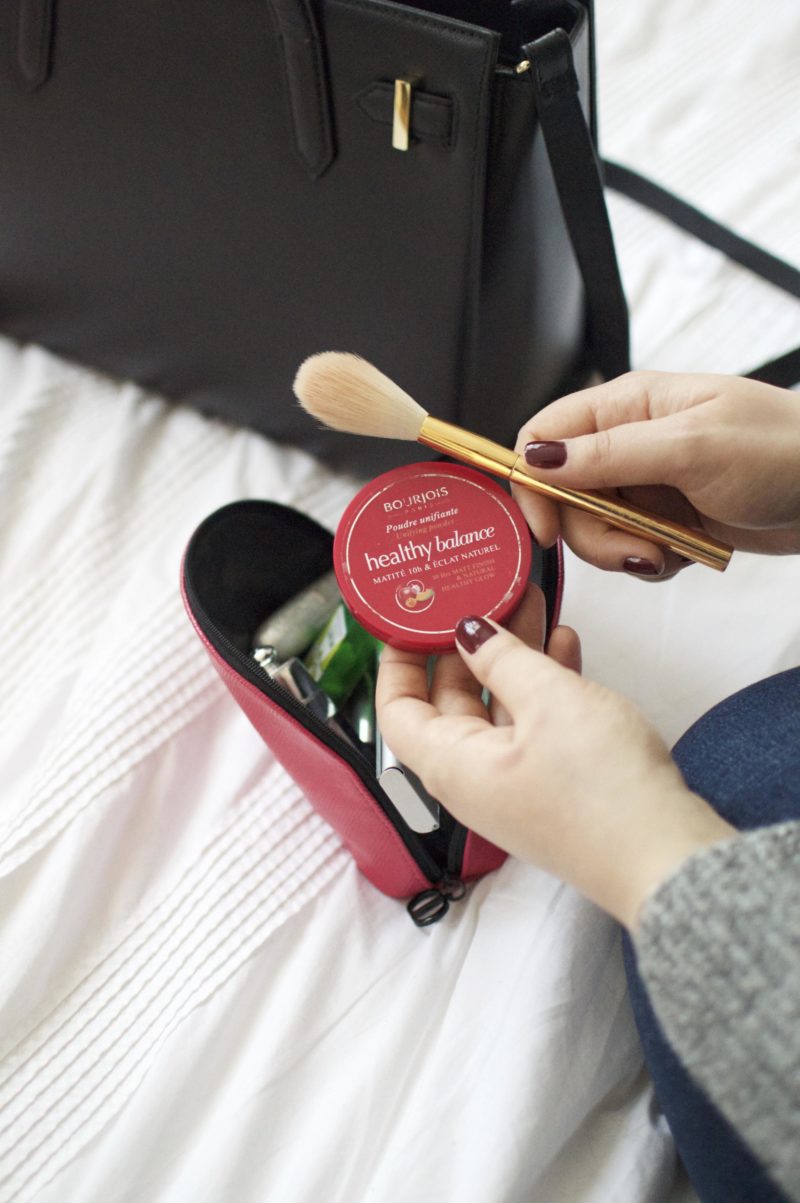 Next we get on to the lip products. I think any beauty obsessed girl will sympathise with me here…I have a grand total of four different lip products! In one handbag! In less than 2 weeks!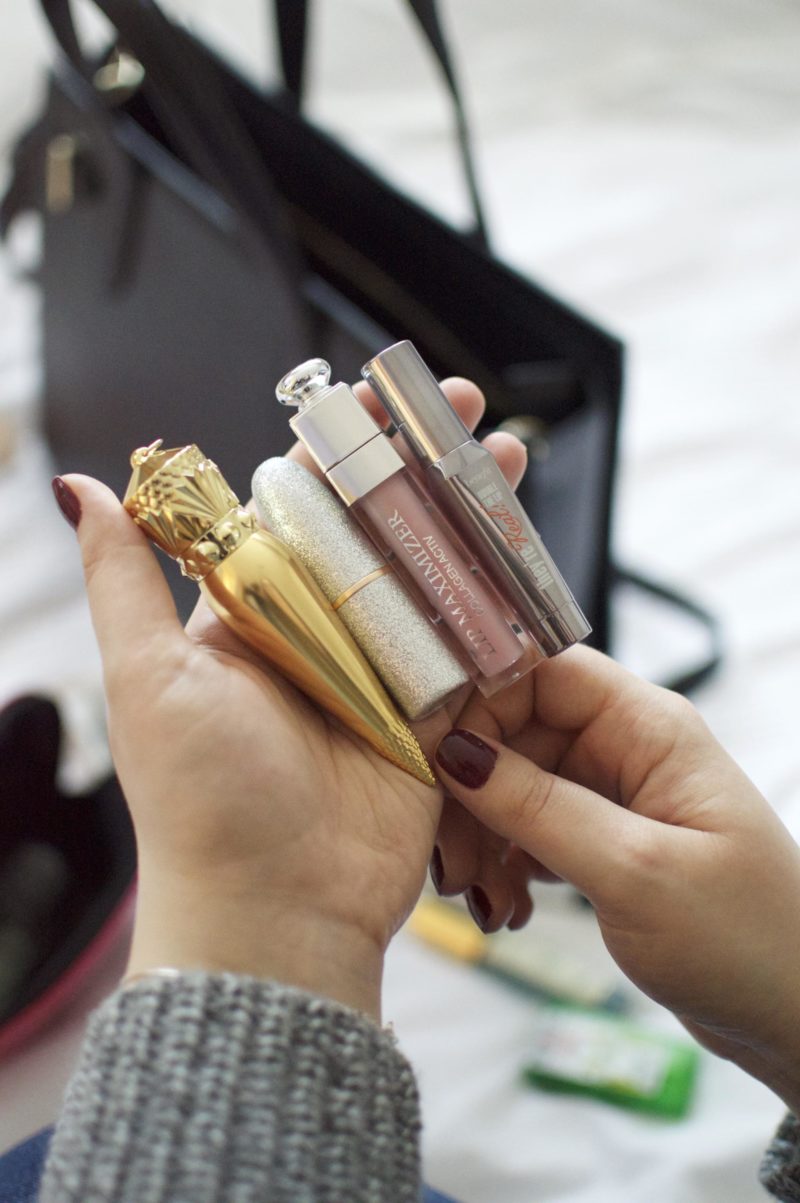 The first of which is my everyday lipstick at the moment; the Christian Louboutin Velvet Matte Lipstick in the shade Just Nothing. I picked this up in the Black Friday sales and have been loving it ever since. You can check out swatches & close ups HERE, but I can tell you now it is a lovely everyday shade.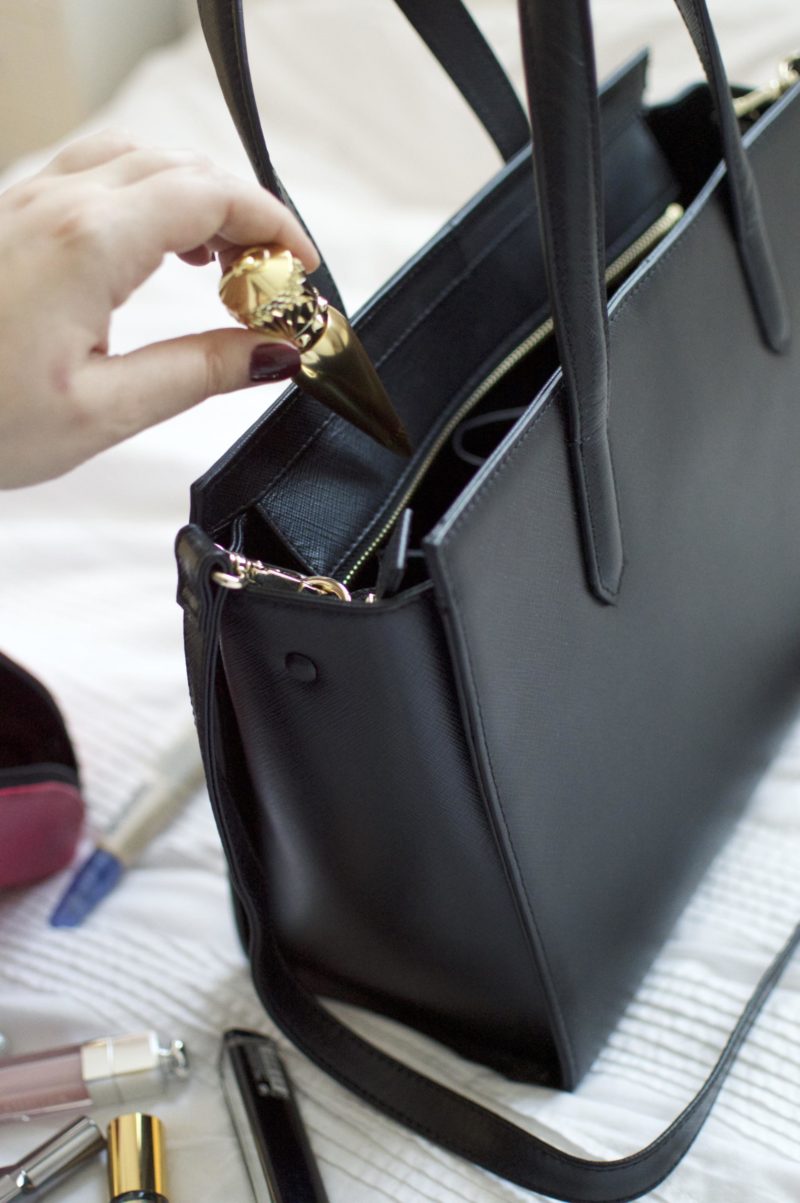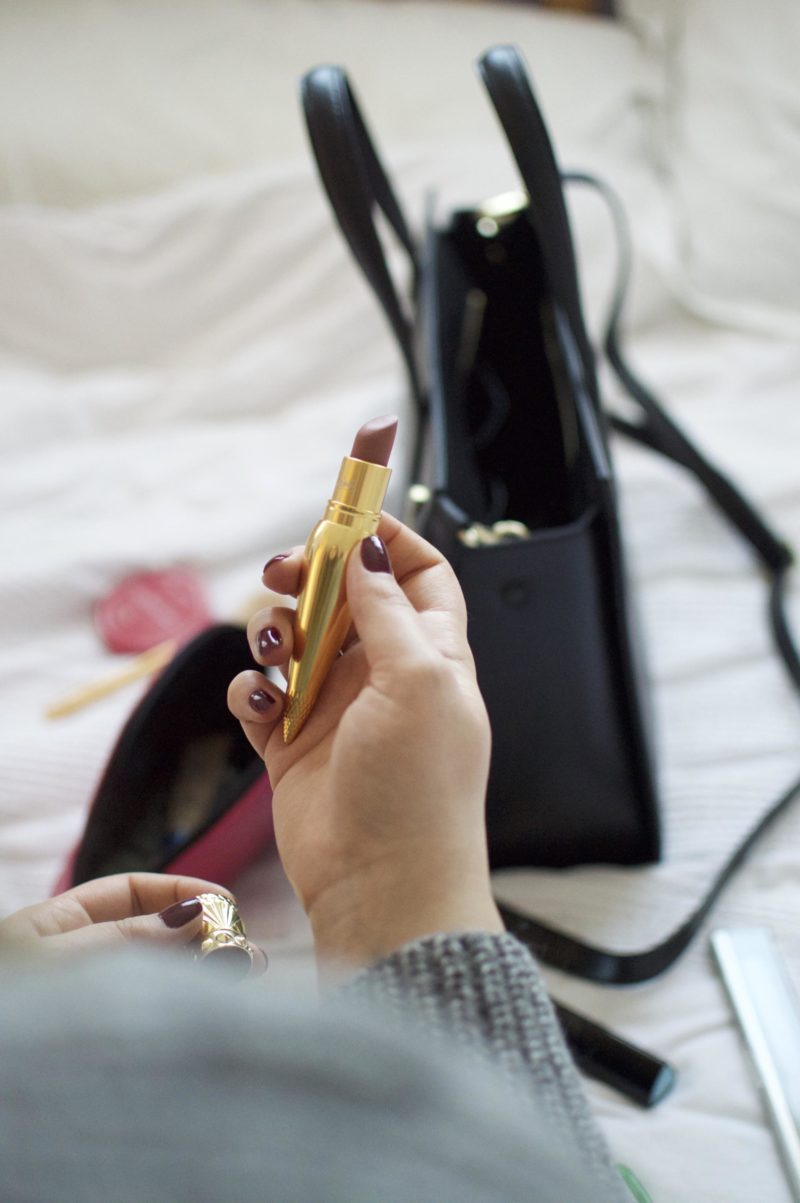 Another lovely everyday lip colour I have been loving at the moment is MAC x Mariah Carey Lipstick in Dahhlinggg! I popped this in my bag straight after I purchased it and have actually got quite a bit of wear out of it. It is a very pale peachy nude, so I dot it on the lips and buff in with my finger. The packaging of this lipstick is so girly and fun, it makes me feel like the ultimate diva apply it out and about! You can see everything I picked up from the MAC x Mariah Carey Collection in THIS post.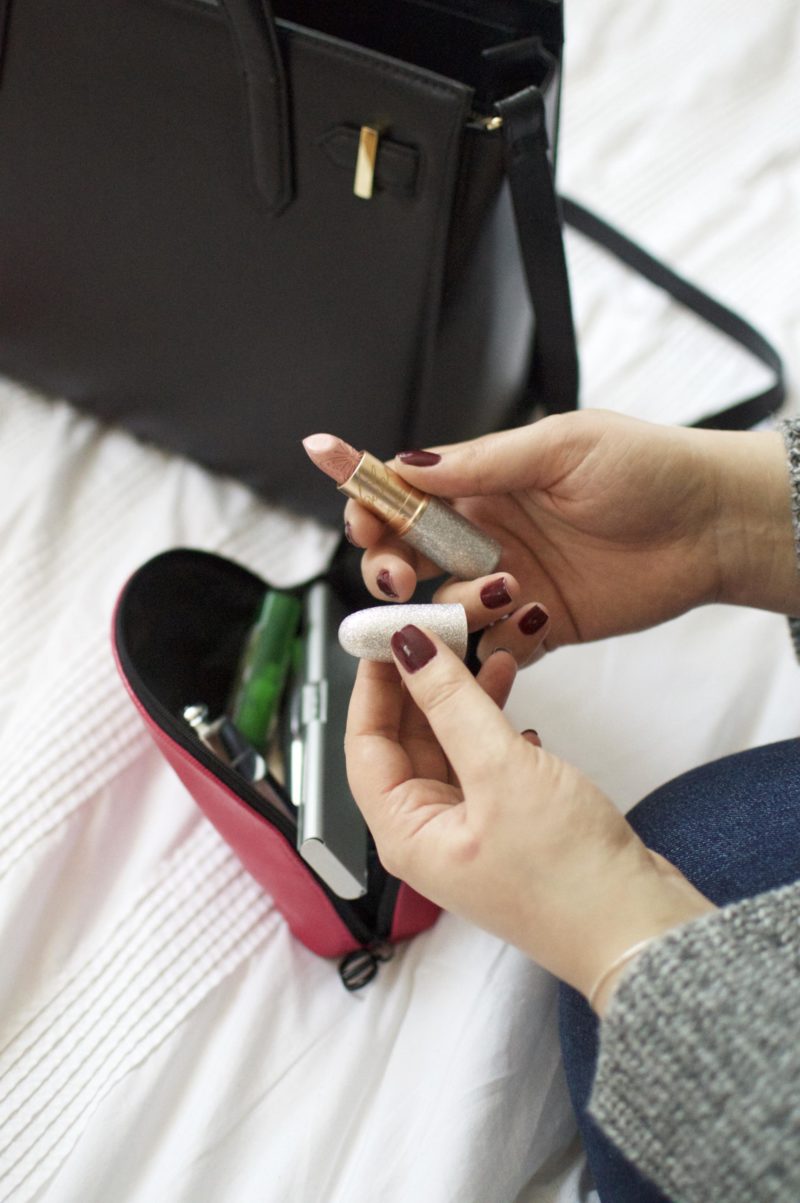 Then there is the gorgeous Dior Addict Lip Maximizer. I wrote all about why I love this product in THIS post, if you want a full review. But day to day, I like a quick slick of this because of it's balmy, moisturising texture as well as it's plumping power.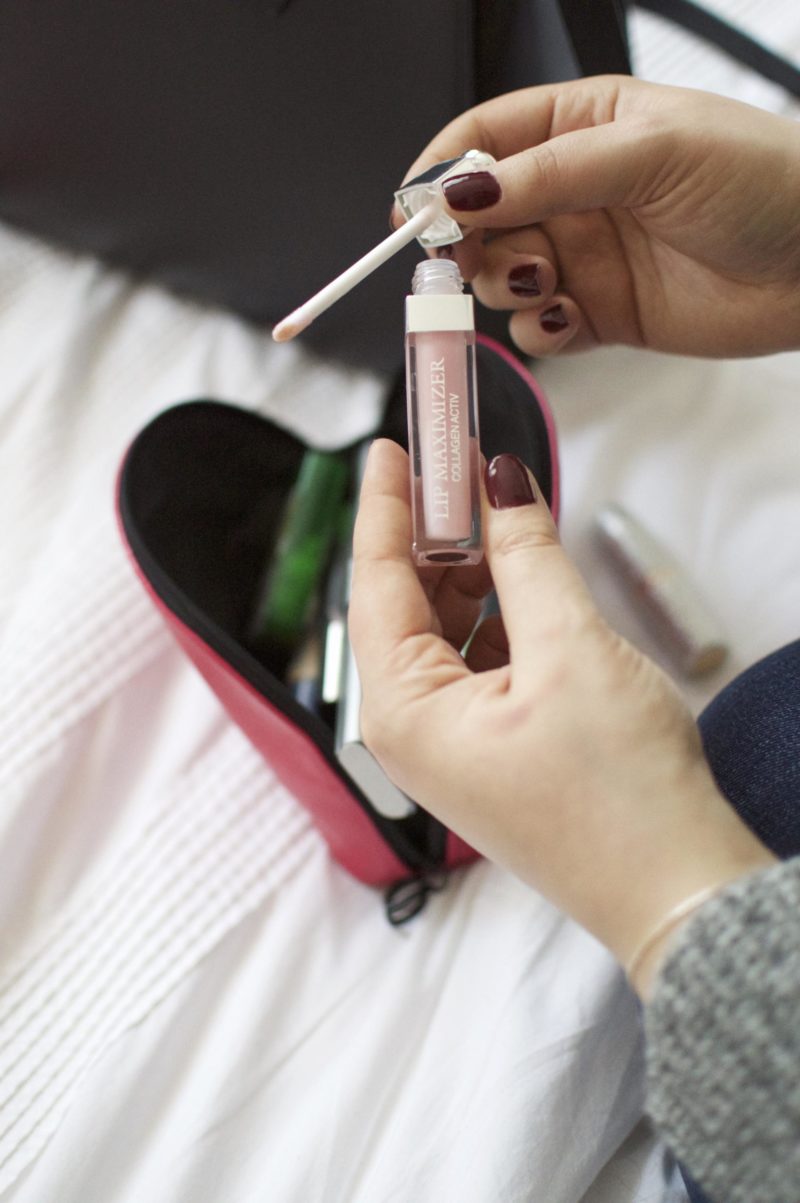 The final lip product I keep on hand is a red lip option. I have been carry around the new shade Revved-Up Red from the benefit They're Real Big Sexy Lip Kit. The concept of this lipstick, with two different shades, to contour the lips, it really interesting. It's the perfect shade to add a pop of colour if I want to go out after work.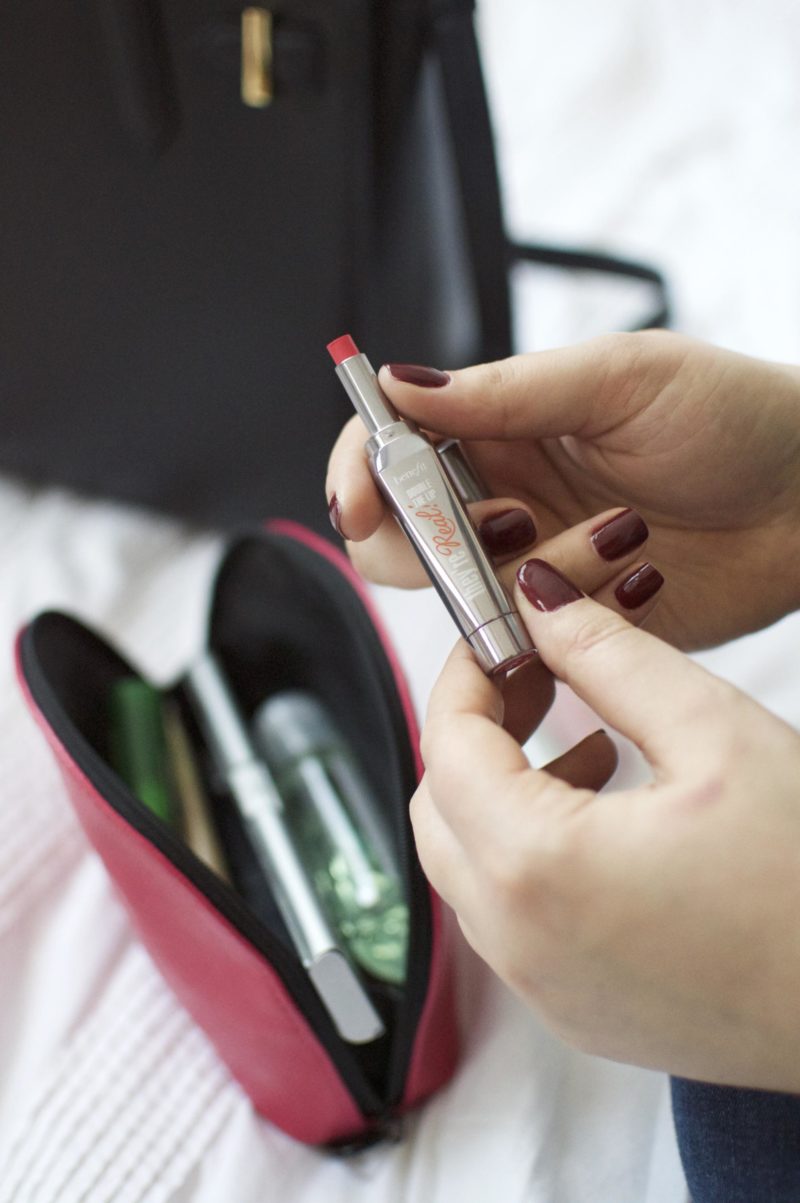 Other makeup items that hang around in the Dior pitch are the Rimmel Match Perfection Concealer. I love this for easy coverage on the go. It's lightweight enough to pop on top of other makeup throughout the day too. I also always have a tube of mascara. The one I have in my bag at the moment is the Bourjois Volume Reveal Mascara. I wrote a whole review of this brilliant lash-boosting tube on Made From Beauty; you can read it HERE. I also love that it comes with a mirror already on the site of the tube, perfect for on-the-go application.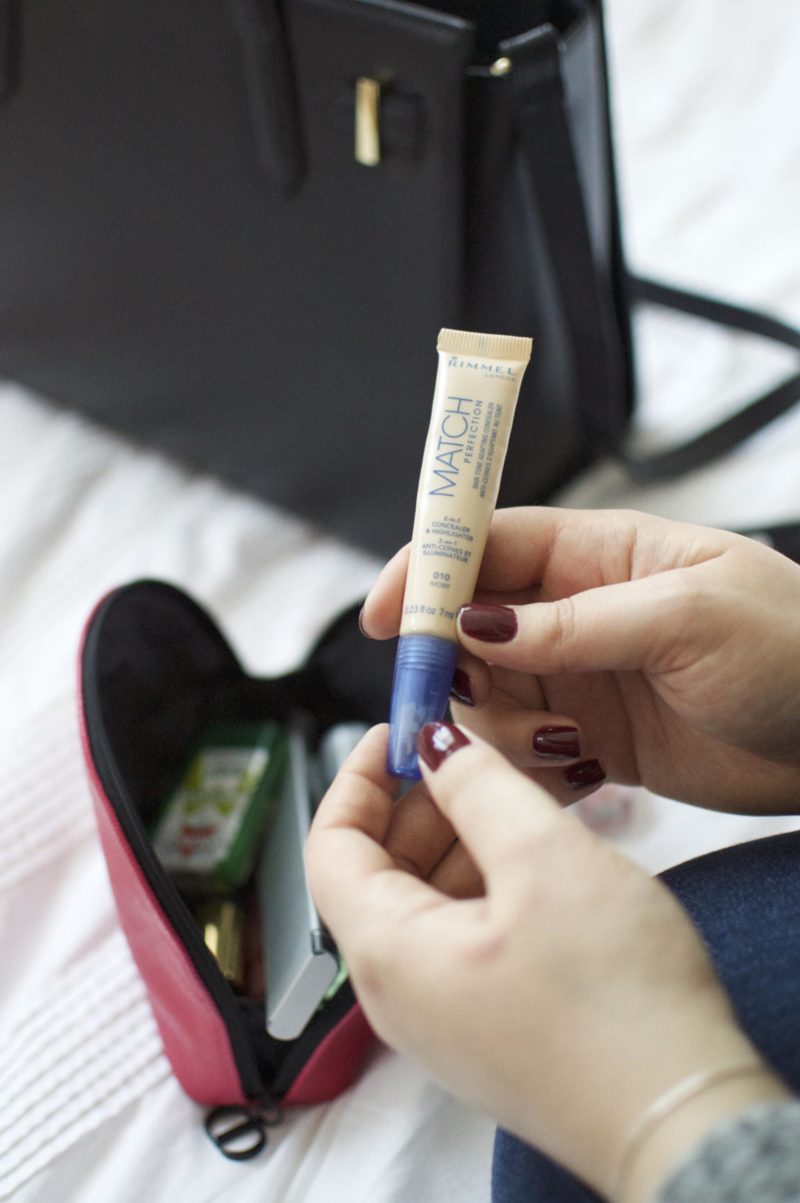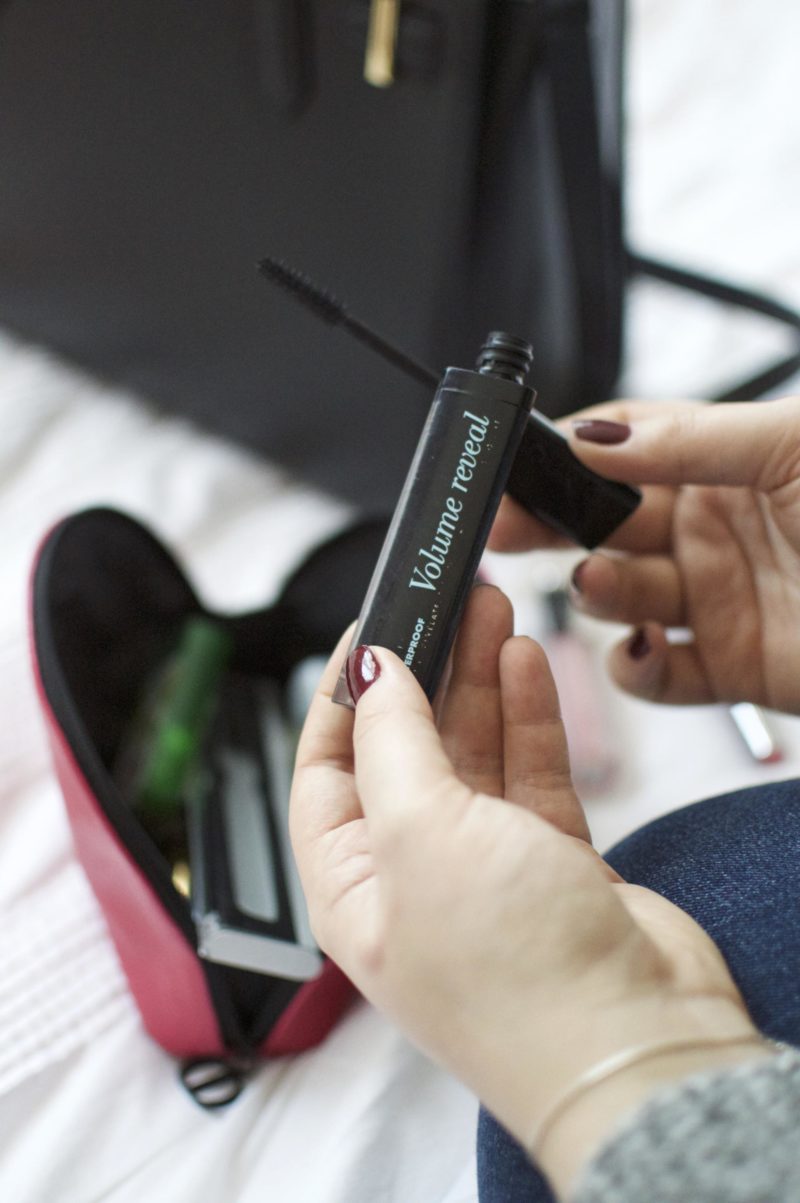 I always have a little packet of mints with me, some hand gel and an Invisibobble – must haves for long days away from home!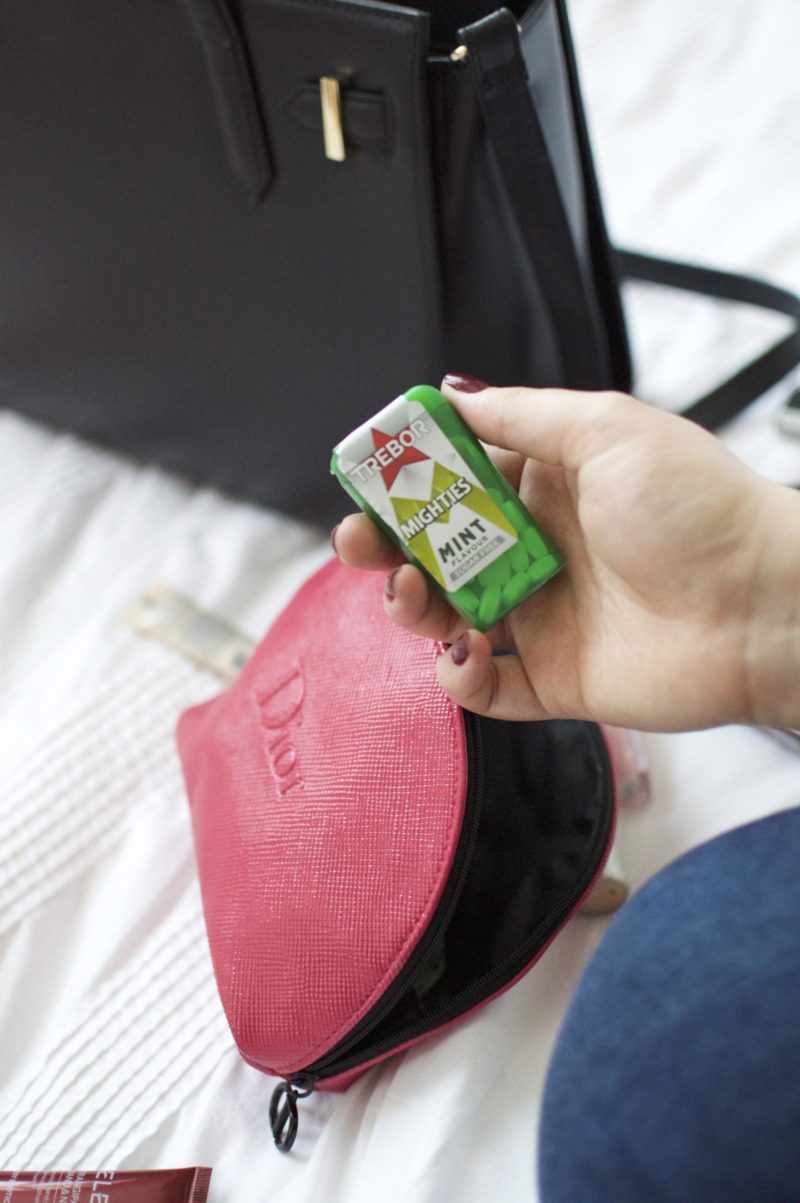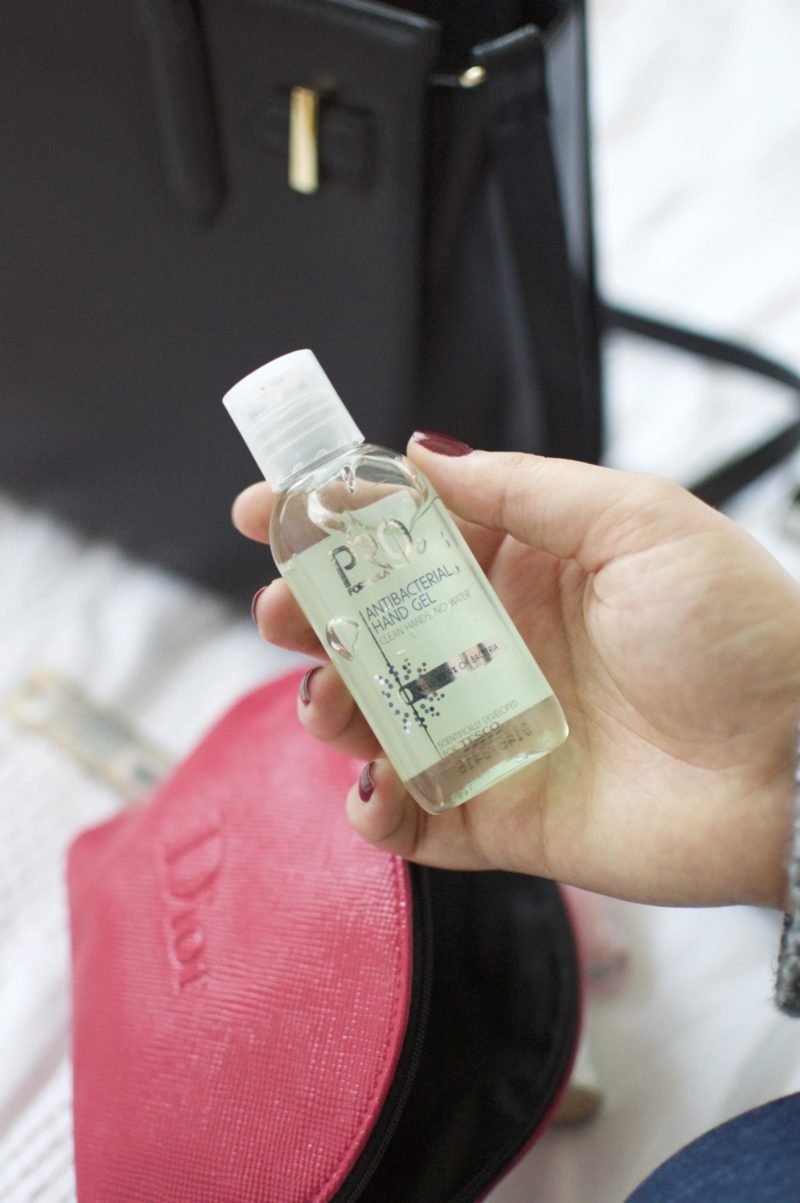 The hand cream I have been using at the moment is the Elemis Frangipani Monoi Hand & Nail Cream. This is a lovely product for a quick hit of moisture as it sinks in quickly and has such a beautiful scent. I can never be without hand cream – especially at this time of year!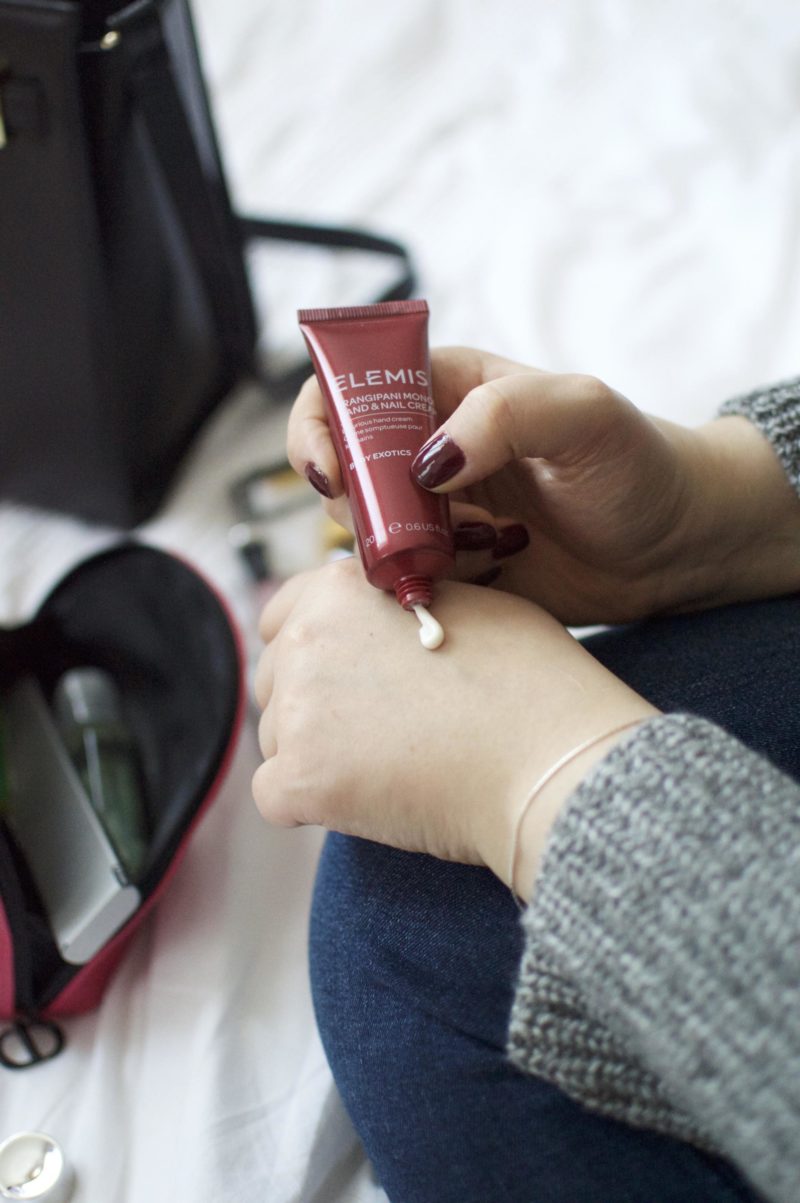 Sticking with the hand theme, I also carry a Leighton Denny Crystal Nail File with me everywhere. If you read Monday's post (all about my Beauty Habits to Break in the New Year) then you'll know I am making an effort to really look after my nails this year. I can always count on this file to gently file my nails and not grab at them. It never causes damage to the nails and it honestly one of my beauty heroes!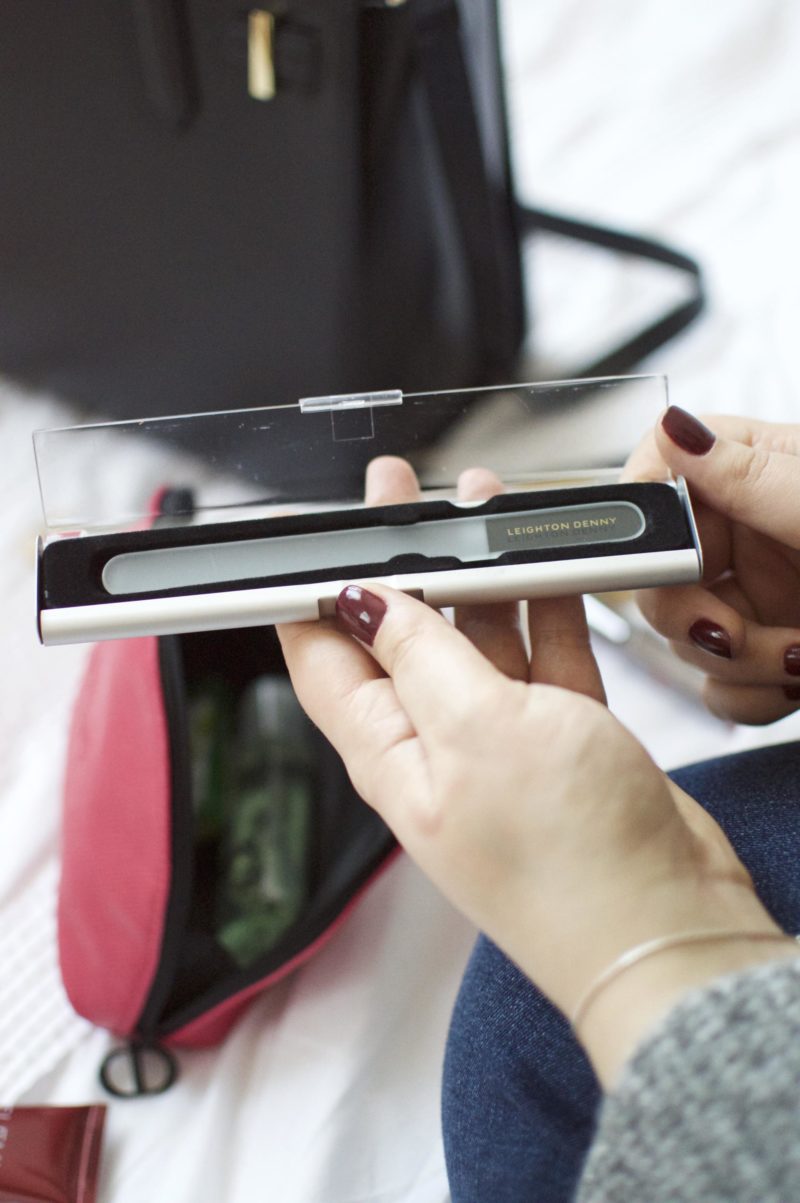 Finally, the last product in my little makeup bag is the Shay & Blue Atropa Belladonna Natural Spray Fragrance. I got this little travel sized perfume in my Marks & Spencer's advent calendar this year & slung it straight in my bag. It is a very sweet fragrance, which is so easy to wear throughout the day. Notes of dark cassis berries and flower blooms of narcissus and jasmine make it perfect for layering over the mornings perfume. And the base of rich bourbon vanilla makes it super yummy! I like carrying a little perfume with me to freshen up every now and then.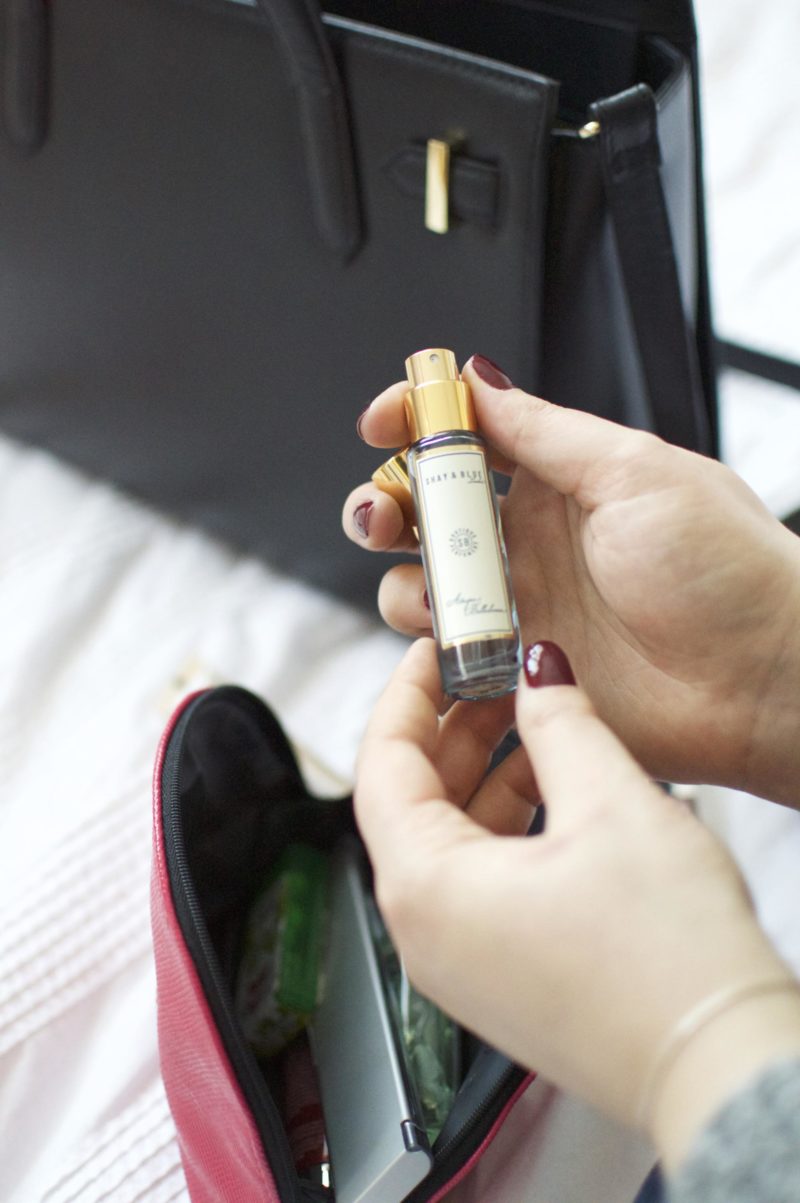 So what do you carry in your handbag? Let me know in the comments below!
Sam