All I really want for Christmas is my family and friends around me. But writing a post all about those guys might not be what you'd expect to see on Made From Beauty. So in the spirit of ecommerce lavish wishlists, and trying to give Josh a few ideas (he's got no idea what to get me), let's have a bit of christmasy fun shall we?
Here is my wishlist this year…
Josh; if you're reading this, there are lot of expensive things in here, so don't panic, it's just to give you some ideas!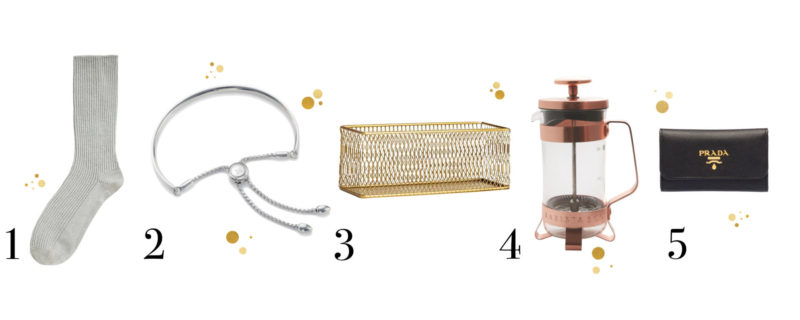 Starting with one of the most lavish things on my wishlist; cashmere socks. I know they are totally overpriced and an expensive no one needs to have, but I just really really really like them. These are one of those products I've gone in store and felt, and pined after…and dreamt about…
This next item is top of my wishlist. I don't know what it is, but I've got back into bracelets recently. I mentioned on my Snapchat (username is madefrombeauty0 if you'd like to add me) that I have been coveting this little Monica Vinader bracelet for a while, and it's still on my mind!
I was totally smitten with this metal basket from H&M the moment I saw it. Normally I would be eyeing up small pieces of furniture or a rug at this time of year, but Josh and I are currently back living with my mum, so my homeware wants have to be kept to a minimum. I could see this working brilliantly though in our room to store products or cosy winter hats in.
Another homeware item I have been after for a little while is a cafetiere. I think this copper and glass one from Habitat is lovely – just the type of thing I'd like to find wrapped under the tree!
Now we are out of relatively affordable territory – let's dive into the luxe with this Prada key wallet. I have a non-branded black key wallet at the moment, which I use everyday, so I don't think it's that wild to want to buy a branded one. For some reason this Prada number has been on my fashion 'want' list for a long time, it's just so chic!

I'm a candle girl. There, I said it. I absolutely love them. Currently I have one from the The White Company and two from Joe Malone on the go – so this one from Space NK would be a very welcome addition to the family.
Now this is a little bit crazy, I know. But I have wanted this Gucci bag for so long. Now that Gucci has had a major bump in popularity I am hoping they won't bump the price up on the Soho Bag just yet. For a designer bag, this is relatively affordable, but still a little way out of my reach. So if Santa wanted to drop this down the chimney for me? Well, it would be rude of me to refuse!
What a random thing to have on a wishlist, I know?! But I have loved the look of these coral ornaments for a while. They have to be just right though, and Zara always gets it right.
I had a complete sulk like a little brat in the shop when my mum told me I didn't need another mug after picking this one up in Marks & Spencer. But, wow, isn't this gorgeous? At only £8.00 I think this is the perfect christmas mug. Christmasy, but not overdone!
And finally, probably the one thing that has been on my mind more than any other item recently is this cardholder from YSL. I currently don't carry a purse in my handbag and have all my cards flying loose in the bottom – Santa here my cry! This gorgeous monogramed accessory would solve my organisation problems and look cute.
What is on your Christmas Wishlist this year? Anything similar to mine? Let me know in the comments below!
Sam
P.S: I have started Snapchatting! If you want daily updates, makeup tutorials, mini hauls and behind the scenes then add me! My username is: madefrombeauty0
Or follow this link: https://www.snapchat.com/add/madefrombeauty0