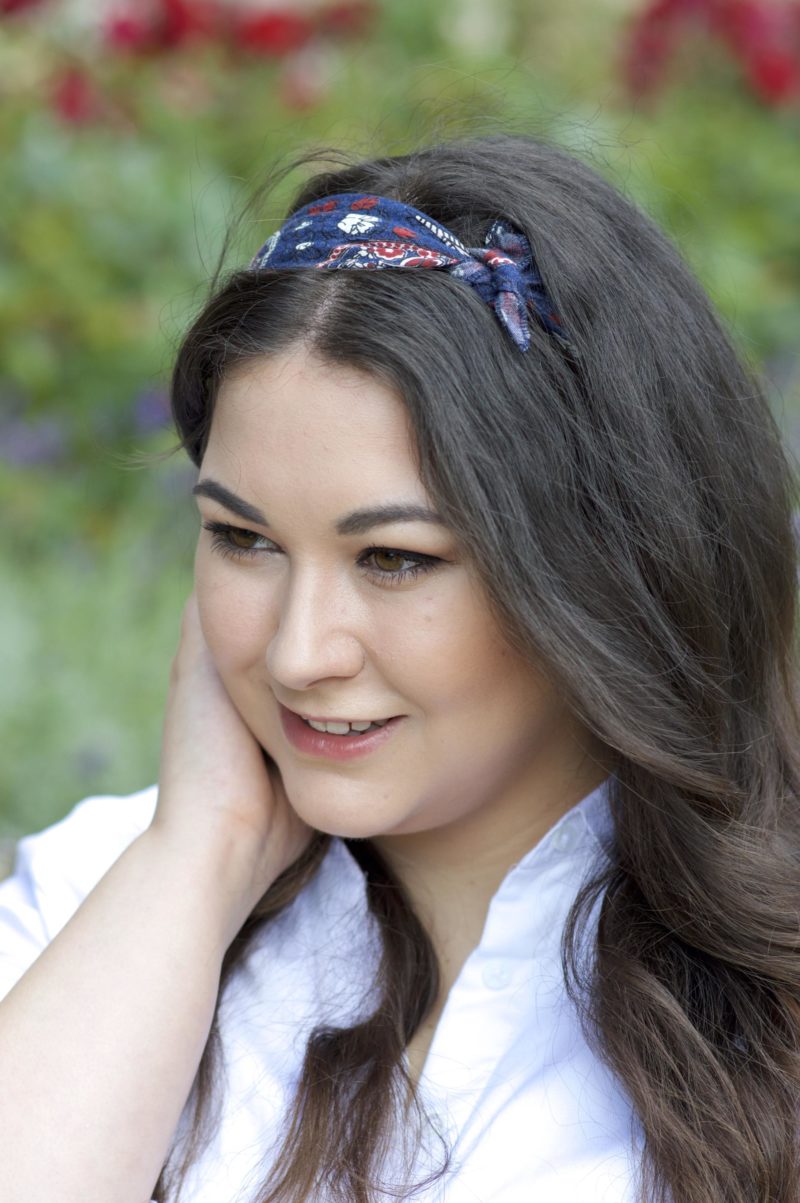 For Josh's birthday we headed into London for the day, with every intention on heading to lots of museums and galleries. Instead, we ended up shopping for most of the day – poor guy! On Oxford Street I popped into one of my favourite places to shop for accessories; Forever 21! I love Forever 21 for super affordable jewellery, bags, sunglasses and all things cute to add to outfits. So when I saw this beautiful little Paisley, chambray scarf I knew I wanted to find some ways to style it and share with you guys.
The first way I always love to wear cute little scarfs is in my hair. This time I have rolled the scarf up, and tied it on the top of my head to add a bit of interest to my hair when it's down. This is a super easy way to wear a scarf, and I often do this to jazz up an outfit. It looks especially sweet with a summery outfit like light wash jeans and an off the shoulder top.
There are lots of simple hairstyles that you can add a scarf to, not just when hair is down. I also like to sling my hair into a low, messy bun with this look to get my hair out of the way in the warm weather.
The next way I would wear this scarf, which is super on-trend at the moment, is as a neckerchief. I found this a little strange to style at first, but with a simple, crisp white shirt, the scarf adds a little something-something to this look. The dark blue fabric, with a touches of red, poking out from behind the white collar is pretty, subtle, yet stylish. I wore my hair down, and swept to the side, but I think next time I'll try it with my hair up.
The last way I styled this scarf is the easiest and most simple look; adding it onto a bag. I have been doing this for years with little summer scarfs, as I think it adds a little something extra to an outfit. Although I tied the scarf onto my Chloé Faye look-a-like (which you can read all about HERE), I would have normally tied it onto a large summery tote (like the one I wore in THIS post – but it's broken, boo!).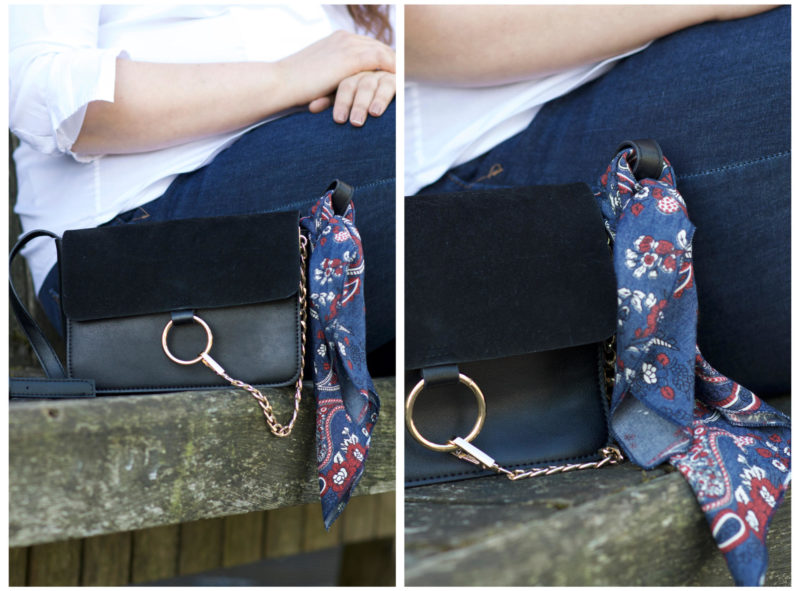 All in all, I am super happy that I picked up this piece. For only £4.50, I think with these three looks I have defiantly got my wear out of it and it's handy to have something like this on had to jazz up an outfit.
Do you wear little scarfs like these with your outfits? If so, where do you normally pick them up from? And how to do wear them? Let me know in the comments below!
Sam