If you follow me on Twitter then you'll know I've been sick this weekend. There's nothing worse than having a horrible cold, especially when the weathers nice and you just want to be chilling out in a pub garden or eating ice cream in the park. So indeed I've been eating my greens and taking a little bit of time to pamper myself, starting with my new face masks. I've managed to work my way through all three of the new L'Oreal Pure Clay Facial Mask in about 48 hours – overkill? I think not!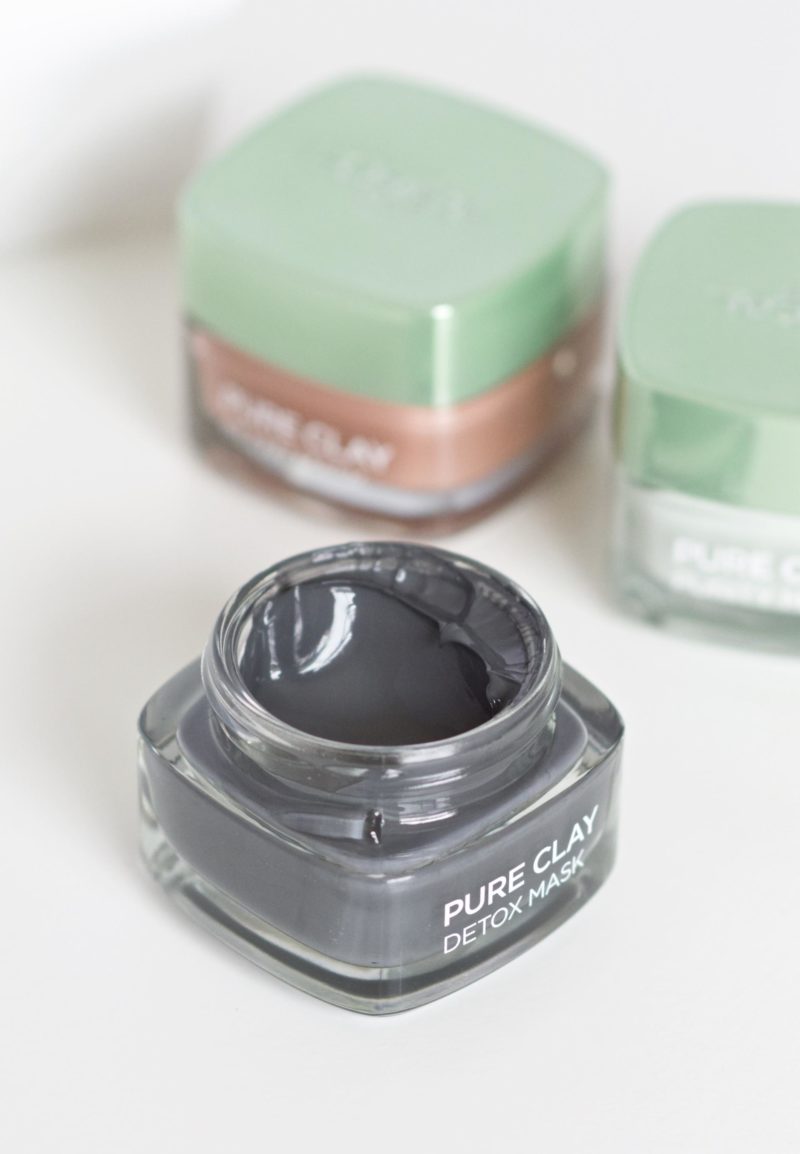 The first I tried was the Pure Clay Detox to give my skin a real deep clean. With L'Oreal's new blend of three clays; Koalin, Montmorillonite and Ghassoul this black mask, with the addition of charcoal is perfect for drawing out skins impurities. I've been a fan of black clay masks for a while, repurchasing the Origins Clear Improvement Active Clay Mask time and time again, so I know my skin normally reacts pretty well to them. When I applied the Pure Clay Detox mask I was surprised to find it was thinner than other clay masks I've used, although it done a good job at drawing out impurities in the skin and leaving my face smooth and silky. I did find one downside with this mask though, as I normally apply my masks with an old flat foundation brush, I found the mask stained the brush and the flannel I used to remove it. Afterwards I found this mask might have been a little intense for my normal to combination skin, so found it was best to apply a rich moisturiser to my skin to replace some of the moisture taken out. I think I'll be using this mask around my chin and nose area, where I get blemishes, in future to keep skin balanced.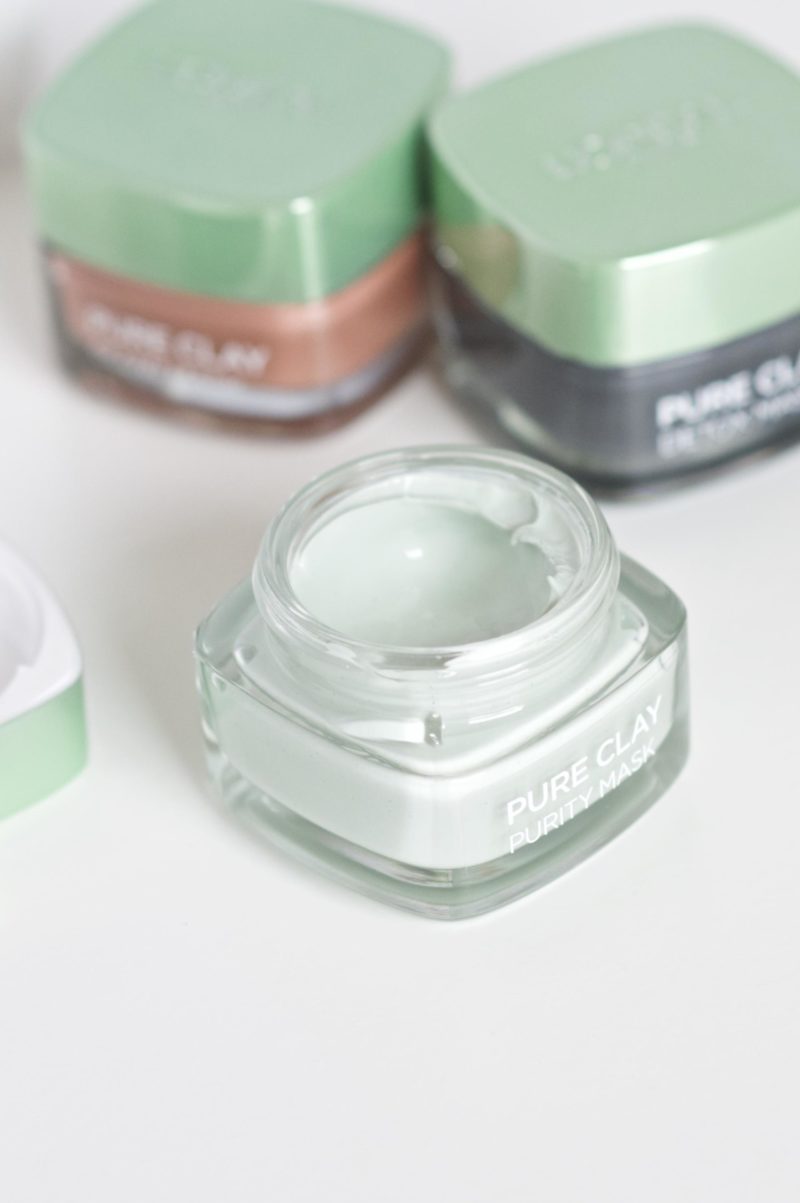 Next I tried out the Pure Clay Purity mask. This mask is made with the same three clay mix as the Pure Clay Detox mask with the addition of eucalyptus instead of charcoal. The eucalyptus in this mask means that it is very cooling on the skin and administers a good dose of antibacterial and anti-inflammatory benefits. When I applied the mask I had a little sore skin around my nose from having a cold and I must say that this product stung that area pretty badly. So, although I wouldn't suggest trying this mask out if you have active breakouts, it would be great for helping clear up any under the skin bumps or fading spots. I didn't find the Purity mask as clearing as the Detox mask, it did give my skin a good clear and improved its texture. If you're looking for a good middle ground mask to use when skin is just playing up a little then this would be a great option.
And last, but by no means least, is the Pure Clay Glow mask. Formulated with the same rich blend of three clays as the Purity and Detox masks, the Glow mask also incorporates Red Algae to help brighten the skin. Although I can't speak for the brightening aspect of this mask (it wasn't apparent after one use) I do actually quite like this mask. Unlike the smooth texture of the other masks, the Glow mask has particles that will help to physically exfoliate the skin when removing the mask, give it a slightly gritty texture. I found that this mask didn't dry my skin at all and actually left it very balanced. Whilst removing the mask with a flannel I used circular movements to get the best exfoliation from the beads in the mask, and found that skin was glowing and more plumped afterwards.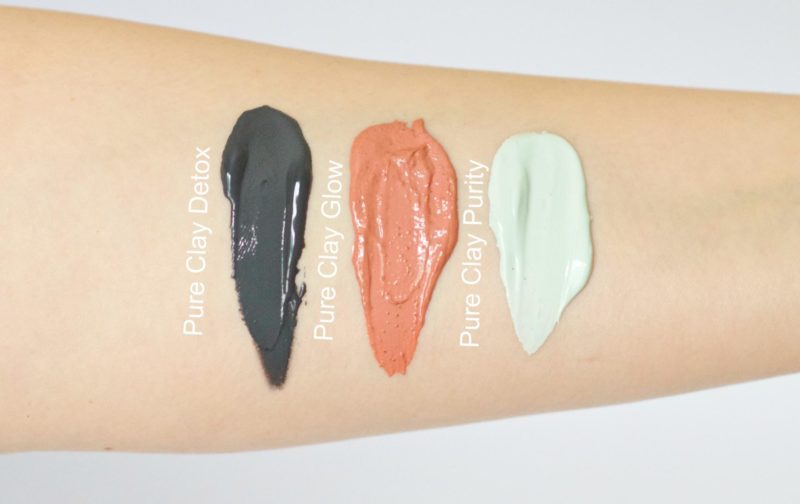 There is one thing to keep in mind with these masks; they are all very heavily scented, which, if you have sensitive skin, could be a problem.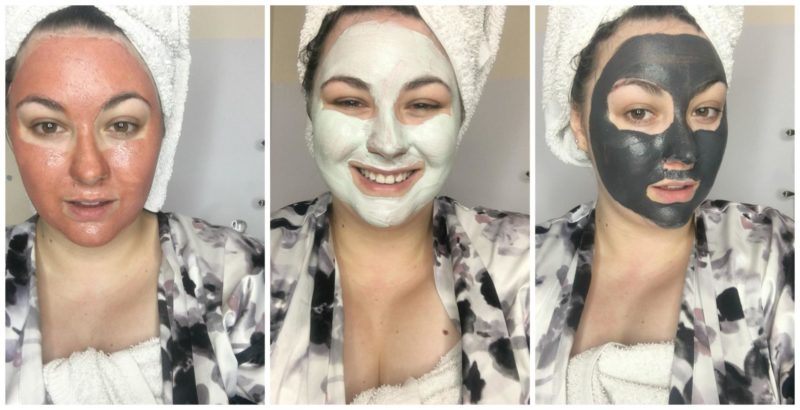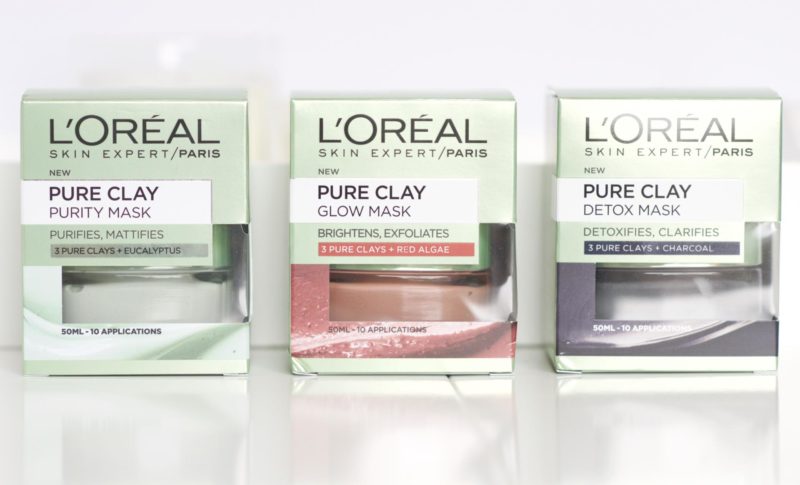 I also think that Loreal would have done better to house these products in tubes rather than glass jars. Although I can see what they were trying to do, (glass = luxury, right?) I would have found them easier to use and travel with in a plastic squeezy packaging.
I brought all three of these masks on the introductory offer, at £5.00 per mask, these are normally £8.00 a pop. Which doesn't sound all that bad, but if you consider you only get 50ml in each product, I don't think these are the best value of money on the market. I also think that of the ingredients too; personally I found all the masks to be packed with lots of chemicals such as Phenoxyethanol (a nasty restricted in the EU to 1% in cosmetics and commonly used in paints and cleaning products) and Citronellol (a synthetic fragrance that commonly causes irritation when applied to the skin). Although I'm not one for the totally organic route when it comes to my skincare (if there's a safe chemical out there that will help my skin I see no harm using it) I was quite shocked when I started reading up on some of the ingredients used in these masks.
So will you be trying out the new L'Oreal Pure Clay Masks? Let me know in the comments below!
Sam
Shop this post: