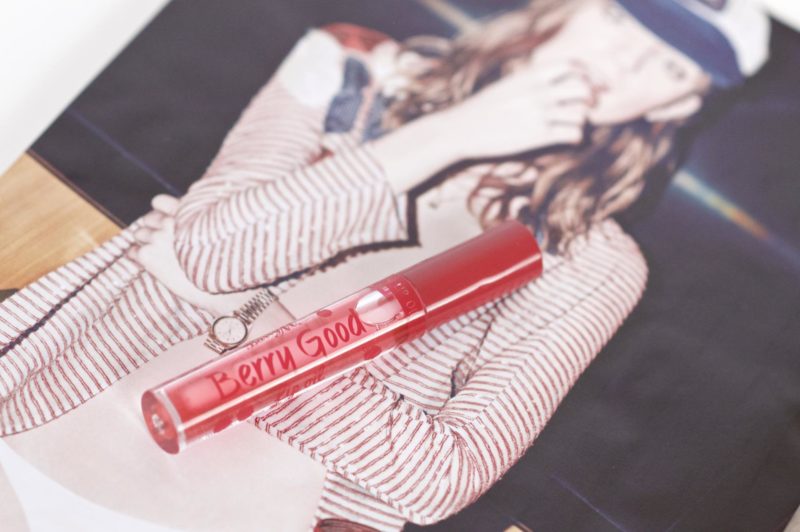 When it comes to everyday makeup there's one type of product that I reach for time and time again; a moisturising lip colour. They are the perfect product to sweep on and go, they perk up my complexion and make me feel better heading out the door. So, as the makeup addict I am, I'm always looking for new ones to add to my collection and normally I turn to the highstreet for my fix.
So when I saw that Barry M had released lip oils I was straight in there, swatching arm and purse at the ready….
Well unfortunately I couldn't actually swatch either the clear version or this tinted berry shade before I purchased – which would explain why I made such a poor choice. The second this product touched my lips I instantly knew that it wasn't for me. I'd been drawn in to the cute packaging, the innovative idea and the possible dupe factor (more on that later) and so popped it in my basket right away. But when I got this product home and actually tried it out I was really disappointed.
First of all, and this was something I wasn't expecting, the Barry M Berry Good Lip Oil is so sticky. It's thick, gloopy texture makes it hard to apply, difficult to wear and horrible to deal with. It instantly stuck to my lips making it un-moveable and created a big thick layer on top of my lips that didn't sit well. If you're someone who likes no-makeup-makeup then these products really aren't for you. It's very obvious that you're wearing a gloss. I suppose that could be this products only redeeming feature; it is super glossy. If you're after intense glass like shine, and can get past the texture, this might work for you.
I also wasn't very happy to find that, despite being formulated with oil, this product didn't condition my lips at all. After toughing it out for a good few hours of wear (the things I do to write a makeup review eh?) I actually found my lips were dryer than when I started.
The dupe thing that I was on about earlier is that I thought these would be a great budget alternative to the Clarins Instant Light Lip Comfort Oils. How wrong could I be? Although I don't own the Clarins Instant Light Lip Comfort Oils I have tried them in store and been amazed at their lightweight texture, smoothness and overall beautiful formula. So after trying out the Barry M budget option I think I'm safe to say these are nothing like the Clarins.
It's rare that I try a product from the highstreet that I truly hate, brands nowadays are normally able to create pretty great products that are as cheap as they are awesome, but Barry M really missed the mark with this one. So have you tried the Barry M Berry Good Lip Oils? If so, let me know your thoughts below, maybe you thought differently to me?
Sam