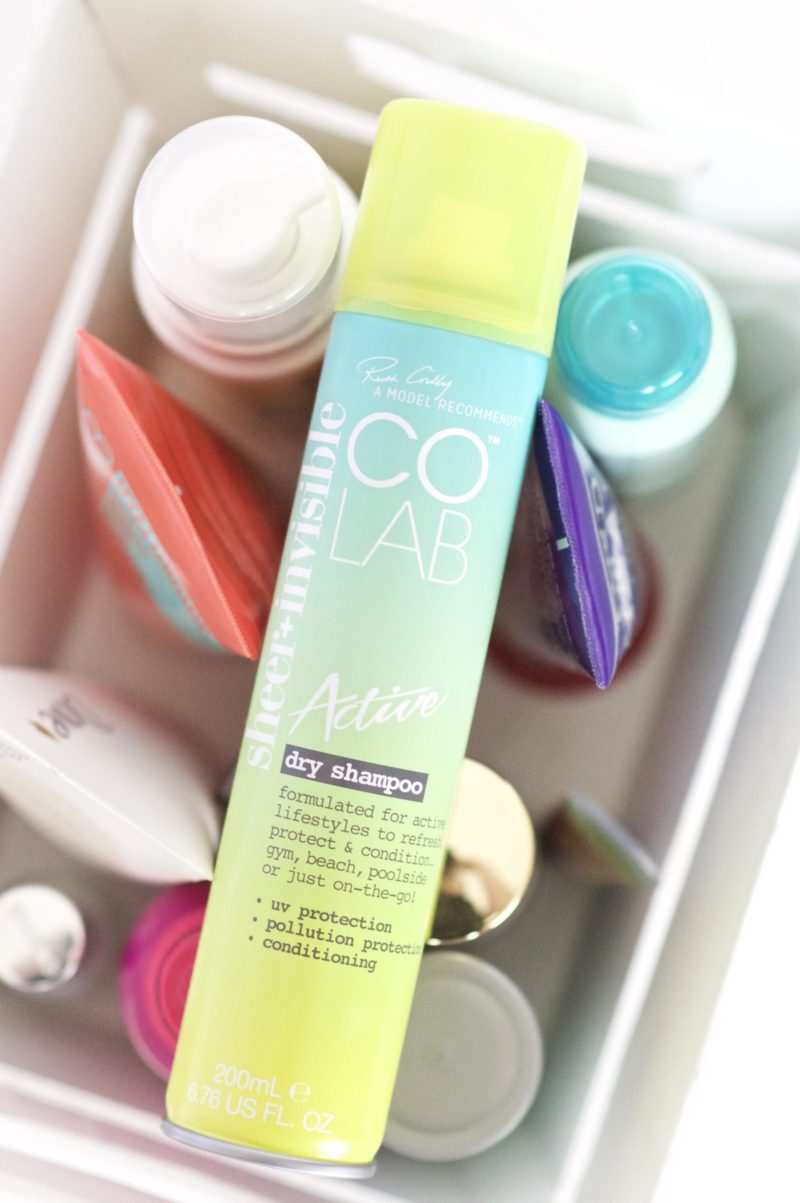 We get through dry shampoo in my house like water. Between Josh and my mum stealing the occasional spritz and the fact that I use it everyday as a styling product; it seems to disappear. Apart from it's magical ability to grow legs and end up over the other side of the house, it's safe to say I bloody love dry shampoo. So, of course, I'm always on the hunt for new formulas that offer a little something extra, which is why I picked up the new CO LAB Active Dry Shampoo.
I've been a huge fan of the CO LAB dry shampoos for many moons, long time readers might remember me talking about their products in THIS and THIS post. So naturally, I couldn't wait to get my mitts on this new addition, specially formulated for the great outdoors (or sweaty betty's of the gym).
This new can of texture-giving goodness has been created to be used before activities that you'd usually use dry shampoo after doing, such as jogging or heading to the gym. This is a technique I have been using for many years, as a quick spray of dry shampoo before exercise will stop hair from getting quite as dirty to begin with. But whilst this product sits on the hair it isn't just soaking up moisture, it's actually giving hair moisture – that's right! With a touch of moringa seed extract this product actually nourishes the hair, giving it the right amount of moisture to protect it from the harsh outdoors elements or the rough and tumble of the gym. The moringa seed extract even contains a natural UV filter, meaning hair is protected from the sun if you're pounding the pavement or sunning yourself on a beach.
I love to use this product before I got to work out or even on freshly washed hair to give it a little bit of extra grit and hold throughout the day. I normally spray a little at the roots, rub in for extra volume and take a small amount through the lengths as well. Even on my almost black hair, this product never leaves any chalkiness or white cast, it's virtually invisible!
The best part? Since switching out my other dry shampoo favourites for this product I have noticed a lasting difference on my hair. I think it's because I use the product almost everyday (bare in mind I have thick, frizzy hair which can take a lot of product), but my hair is noticeably softer, shiner and less frizzy! Considering I haven't changed anything else about my haircare routine, I an convinced this product has been sent by the hair gods to answer my frizzy hair woes.
Needless to say, I will be repurchases this product again and again…and again! So do you think you'll be trying out the CO LAB Active Dry Shampoo? Let me know in the comments below!
Sam