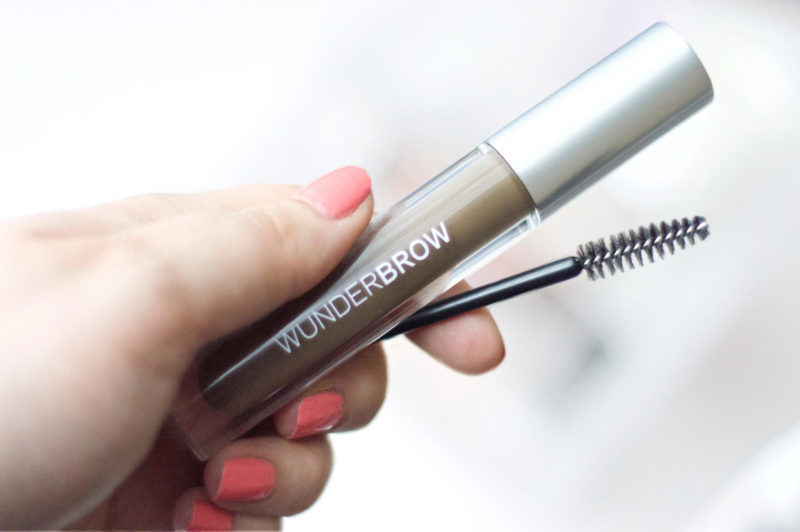 Aside from contouring, the biggest trend of the beauty world at the moment is probably big brows. We all seem to be on the hunt for the product that will fill in our sparse, over-plucked brows and restore them to bushy bold frames for our eyes. So when one product burst on to beauty shelves claiming to do it all and give us perfectly shaped, long lasting brows I couldn't wait to give it a go, it's of course; the Wunderbrow.
Shade:
I picked up the shade Black/Brown in the Wunderbrow and when I first opened the box I was convinced they had sent me the wrong shade. After seeing the shade online I thought I would be receiving a colour a lot darker than this, but thankfully it actually works with my hair.
After reading lots of reviews online and after my own experience of having this product in my collection, I am pretty sure that all the shades dry slightly darker than they look wet. The swatch here on the back of my hand is almost dry.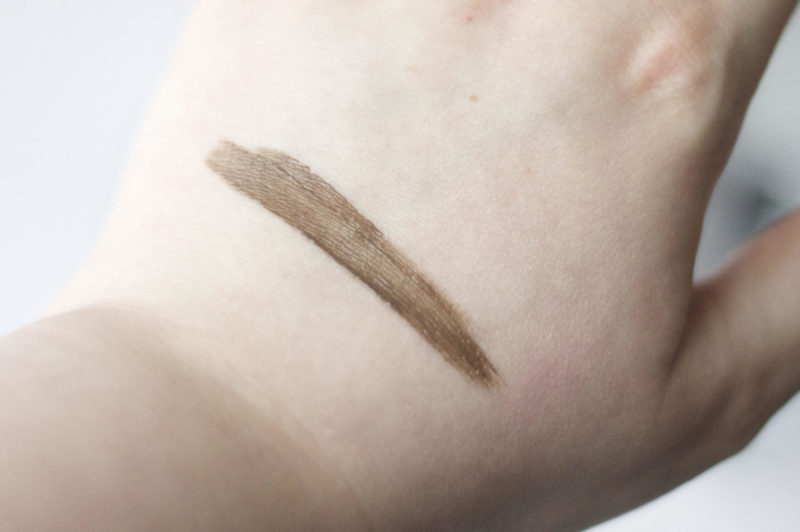 Formulation:
The formula of this product is the thing that's got the whole beauty community talking. Wunderbrow claim that this product can last 'days' if applied and taken care of in the right way. The company are so confident in it's staying power they even sell Wundercleanse Brow Cleanser
 to ensure you are able to remove the product easily.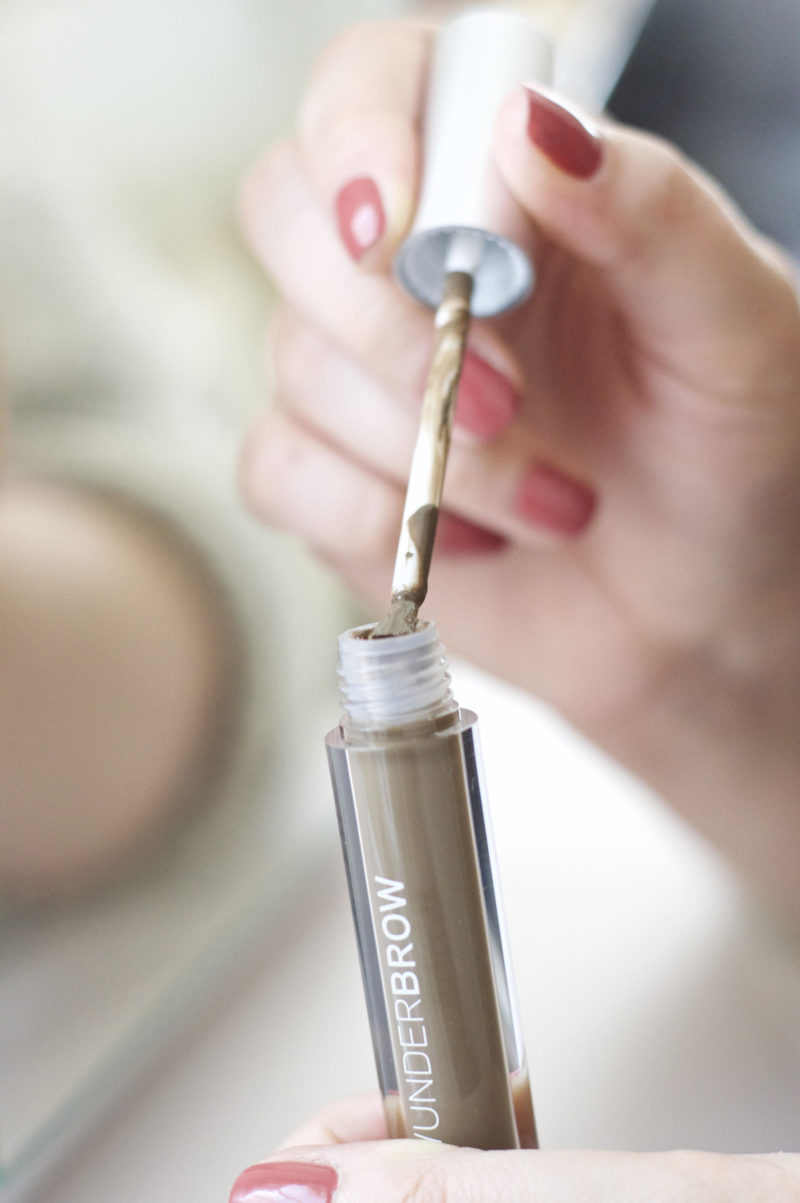 I was quite surprised by how thin the Wunderbrow is, for some reason I was imagining a thick cream product, almost like a slightly liquidy pomade, but it is in fact a thin gel with fine fibres in it. The fibres in the gel mean that the product is really pumping for the brows and I like to sweep the product throughout all of my brows (despite me not having very sparse brows) to give them an extra full look.
Application:
I've had the Wunderbrow for a few weeks now and so I've had time to play around with it and find the best way to apply it. When I first got the product I jumped straight into trying to apply it with the brush tip applicator on the wand, like shown in many of the adverts for the product. Straight away I found this to get very messy, very quickly!
So I have found that the best way to use the gel is to apply it with my usual brow brush, the Anastasia Beverly Hills 12 Large Synthetic Duo Brow Brush. I pick up a little at a time and apply it carefully to achieve the look I want.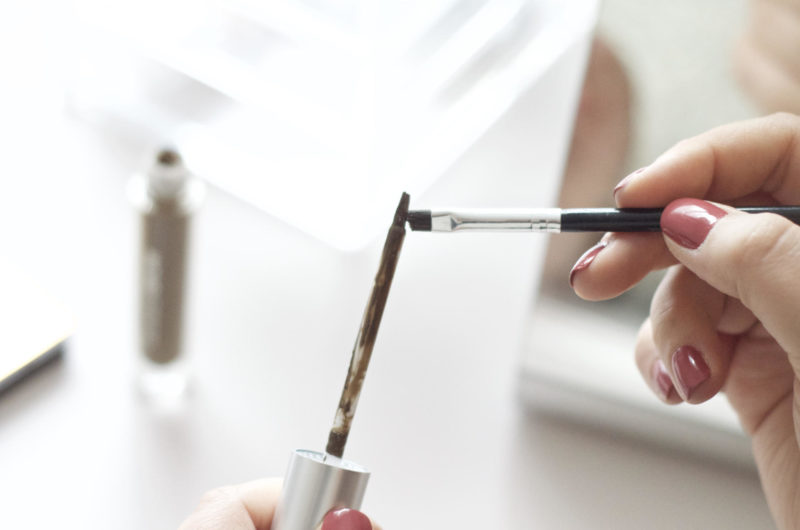 I've found that the Wunderbrow is surprisingly good for layering. With my first few swipes of the brush the gel sometimes doesn't give me enough pigmentation, but once dry (which takes about 30 seconds) it is easy enough to go back in an touch up where needed.
Wunderbrow also comes with a spoolie to brush the product through the brows, which I suppose is a nice touch, but it is only a disposable one, so I have found that I just use one from my brush collection as I would suggest giving brows a little bit of a brush through after application.
Wear Time:
So here's the bit we are all waiting for…does the Wunderbrow last? Short answer: YES!
I have to say I am very happy with the staying power of this product. It easily lasts all day, without fading or flaking. Although Wunderbrow suggest you apply this product before your foundation to ensure there is no oil underneath the brow gel, but I just use mine over my foundation and have still found that is lasts a good ten hours without any signs of wear.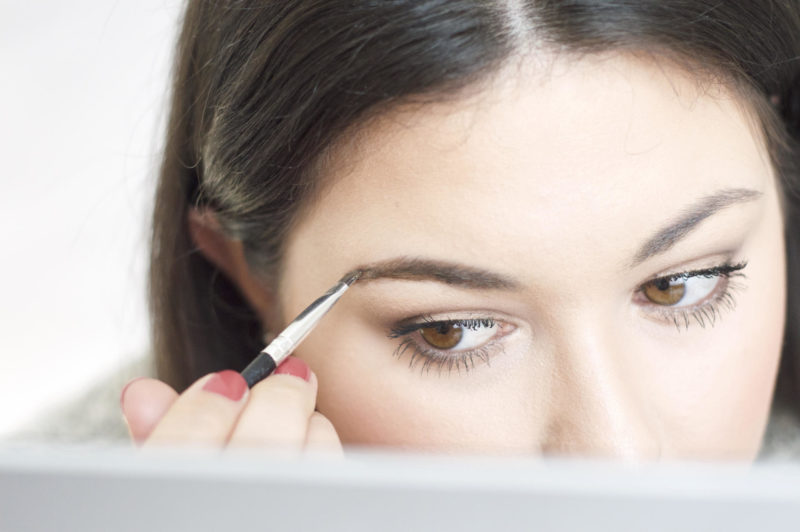 When it comes to removing the product I've found that any oil or cream based cleanser will remove the product easily.
Packaging:
The packaging isn't the most glamorous and feels a little cheap for a £19.95 product, but I can get past that. The tube is about the same length and thickness as a mascara tube so it's perfect for popping in your makeup bag and doesn't take up too much room. But for me, there is one fatal flaw in the packaging of the Wunderbrow; there is nothing to wipe excess product off of the wand, which means you get stuck with lots of the gel all up and down the wand and a great big blob on the brush tip applicator. I have found this means you need to wipe off some of the product on to the top of the tube, which can get a little messy. The only reason why I'm having a bit of a moan about this is that I think it's a pretty easy problem to solve and don't see why the Wunderbrow hasn't got that packaging feature like many mascaras, lipglosses and concealers.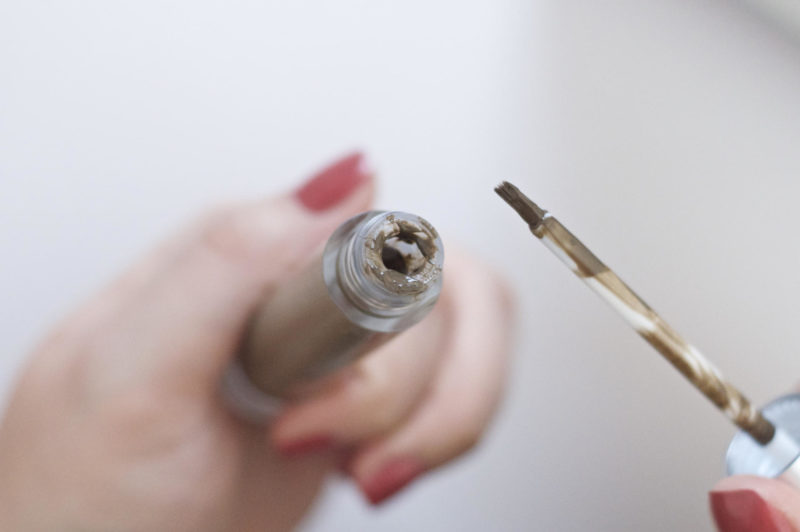 I feel that the brush tip applicator could be just a touch thinner for more precision application, but everyones brows are different lengths and thicknesses so that could just be me.
Final Thoughts:
I'm really impressed with the Wunderbrow, it's longevity is unrivaled by any other brow product I've tried. I do, however, find it a bit of a faff for day to day application so although I love the product, I haven't been reaching for it everyday, more for big events (like THIS ONE I attended recently) where I need my makeup to last all day.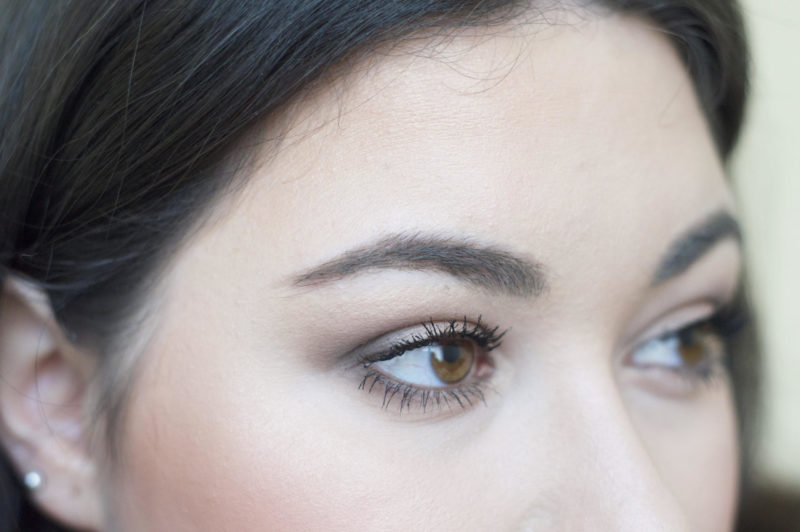 If you are someone who struggles with sparse brows I'd say this is a great product to try if you can get the hang of the application. So have you tried the Wunderbrow? If so let me know in the comments below, I'd love to hear what you thought.
Sam