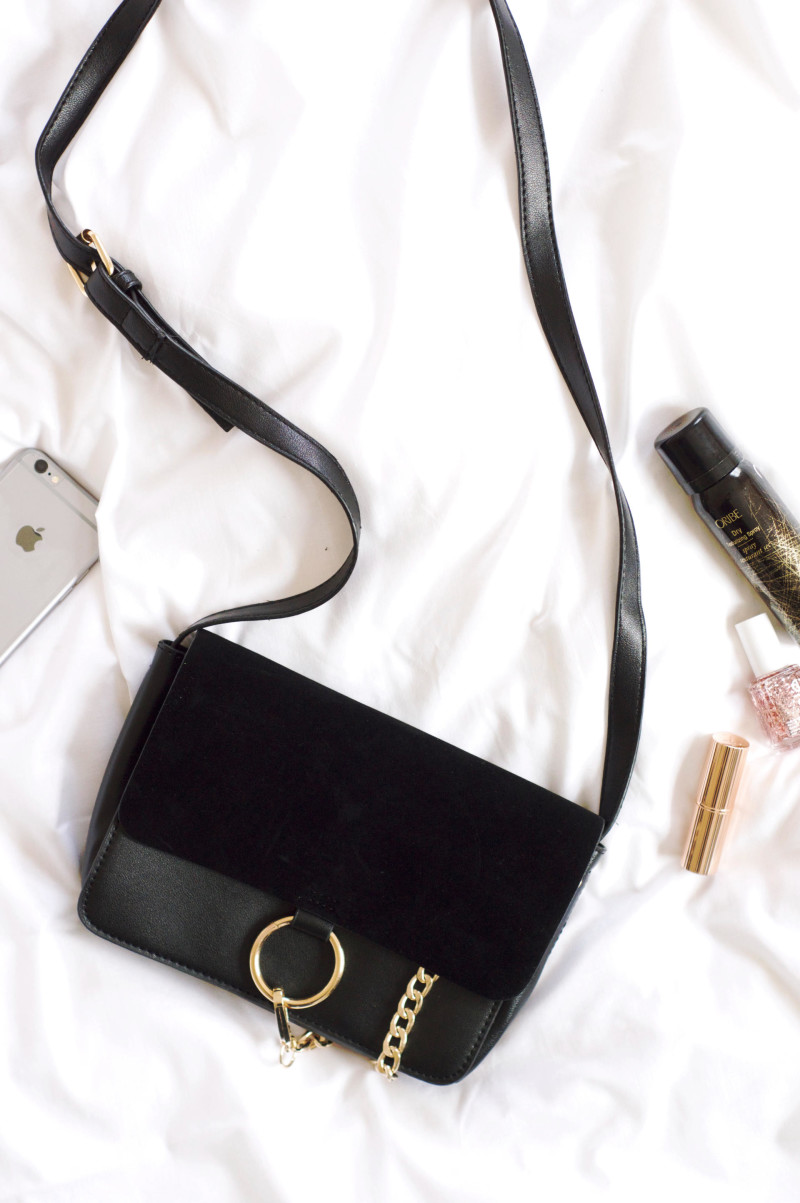 It had been a little while since I had treated myself to a new bag. I'd been stuffing everything into a Primark number after my well loved ASOS satchel broke just before Christmas. Although my Primark cross-body bag has been serving me well, it's not really made to use each and everyday; so I wanted to pick up another cheaper everyday bag to use whilst I save for a proper handbag later in the year.
If you are a fashion lover, YouTube watcher or Pinterest pinner then I'm sure there is one bag you've come across lately; the super popular Chloé Faye shoulder bag. Chloé have really hit the nail on the head with their designs recently and the Faye has been the most Instagram-worthy of the lot. I have been lusting after that bag for a long time now, but at a price tag of just over £1,000, I'm sad to say I will probably never have it in my closet. So when I saw this ridiculously cheap dupe online, I couldn't pass it up!
Normally I'm not into designer dupes as they are normally just plain rip-offs, but I like to think of this style as more of a flattering dupe than a designer fake. Note how there is no branding on the front of the bag and the ring that the chain clasp hooks to is much smaller on the eBay version. The most obvious difference is of course the quality – but what can you expect for £5.75?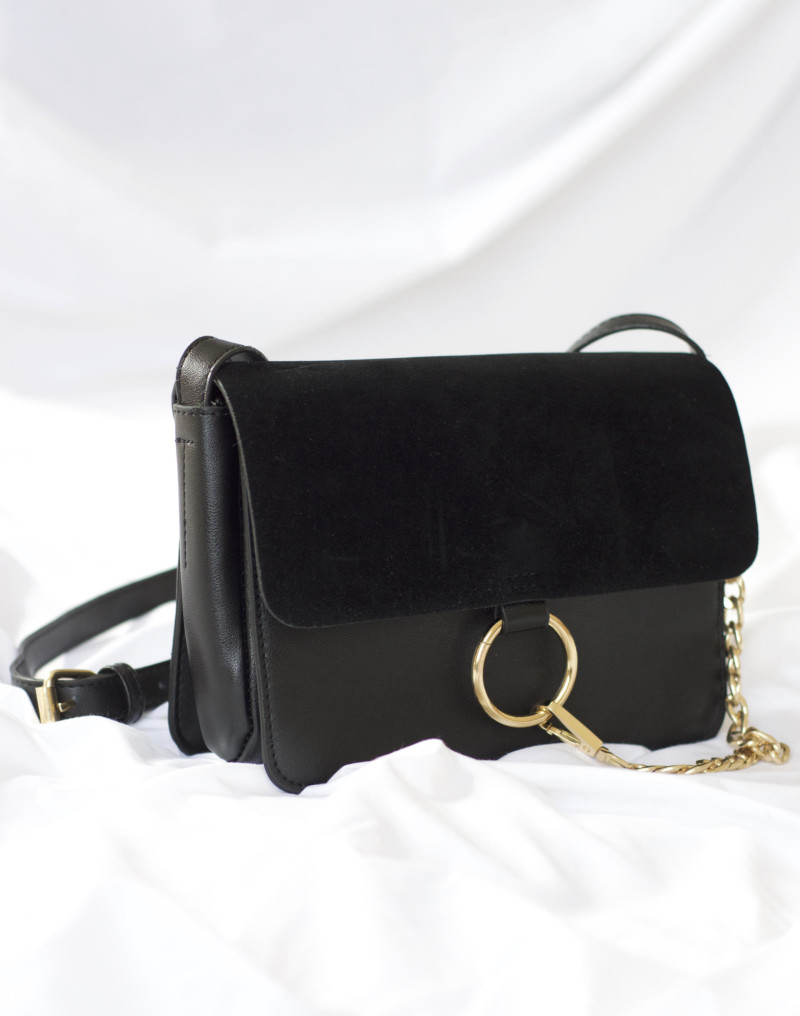 Yes you heard me right, this bag was £5.75 when I brought it! It has since increased slightly to £7.75 – but in my eyes this is still a steal! As I'm in the UK I also had to pay the £6.99 shipping but as it came in five working days without trouble, I cannot complain!
Now I'm gone on and gone about the bag, let's dig into it…
*DISCLAIMER: This bag is relatively new to my collection and so things are very neat inside. Soon there will be approximately 877623653 lip products, 7365 tissues, half a gum and 635 receipts rolling around in the bottom.*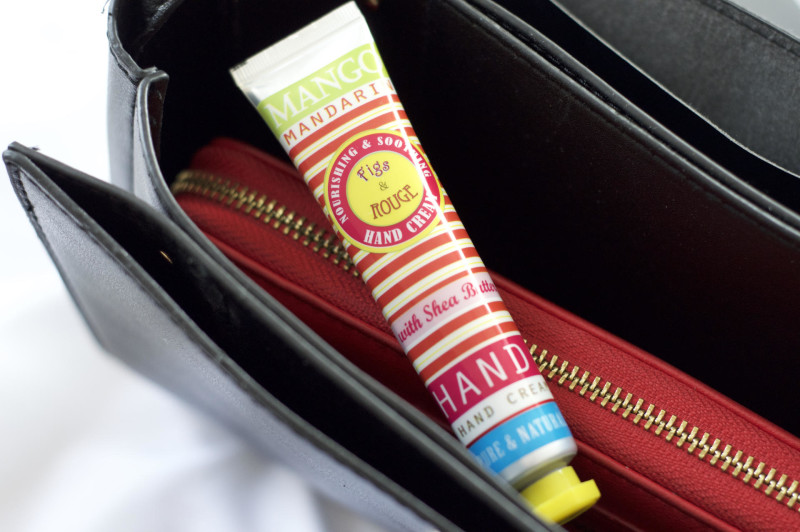 I try to go as simple as possible inside my bag for everyday, so this edition might seem a little light! The only item I missed out here was my keys which I forgot to photograph, but we all know what keys look like don't we? So straight onto the beauty; I pack three beauty essentials to keep me going throughout the working week. The first of these is a hand cream, right now I am using a mini of the Figs & Rouge Mango & Mandarin Shea Butter Hand Cream. I like this formula as it sinks in quickly and keeps hands soft for a good few hours. The only downside is the scent – it is very sickly sweet and lasts on the hands for hours and hours, even after the moisture has gone. My colleagues at work are always commenting on the smell it gives off because you cannot miss it, so for that reason I will not be repurchasing.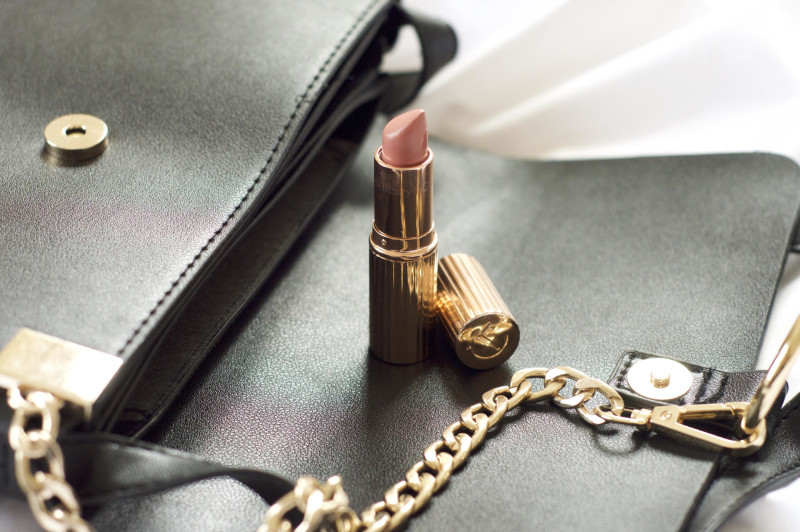 Lips wise I find I don't generally need to carry a lip balm with me during the week and so there is just my everyday lip choice of late: my Charlotte Tilbury Lipstick in Bitch Perfect, the most beautiful nude.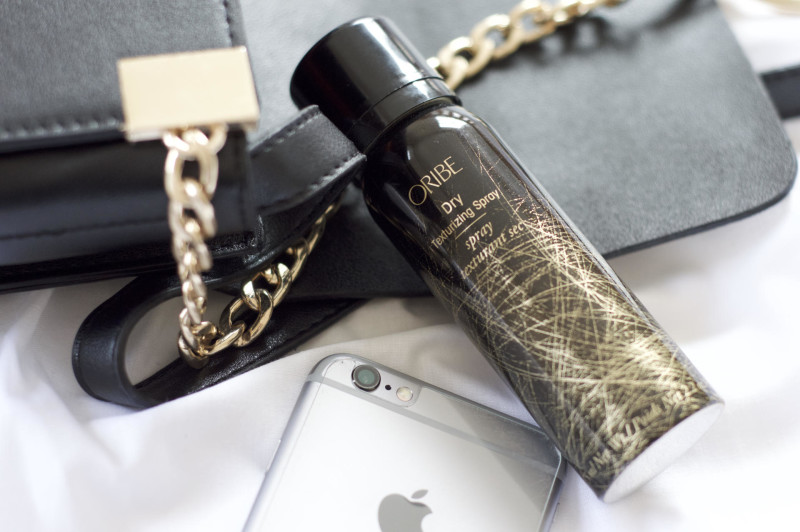 The only other beauty item I carry is a tiny Oribe Dry Texturizing Spray so that I can always add volume to my hair. This product is especially good if I am going out straight after work or my hair needs a little oomph throughout the day. I am slightly addicted to this grit giving, wave releasing, volume plumping spray that gives hair a sexy lived in texture and even doubles as a kind of dry shampoo.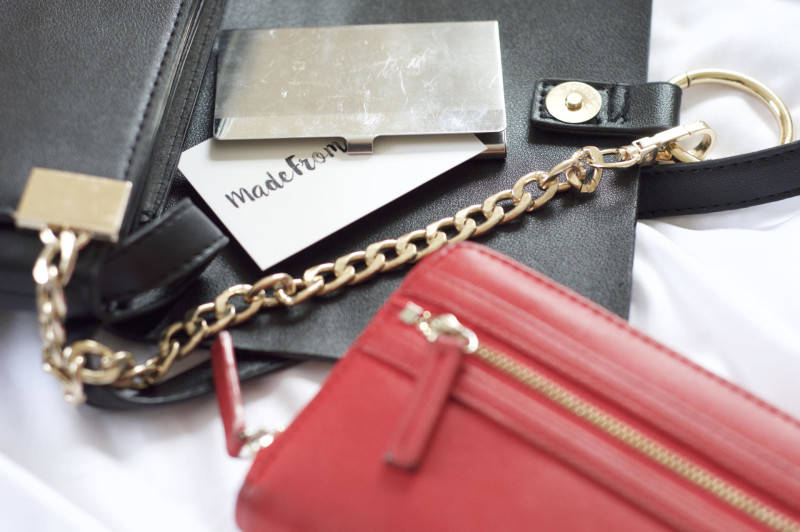 Elsewhere in my bag I also have my red Next purse which has been with me for a while and a business card holder which I got from Amazon so I am always prepared to promote my blog. Oh and don't forget my iPhone – that is never far away!
Let me know in the comments what you carry in your everyday bag that I'm missing!
Sam