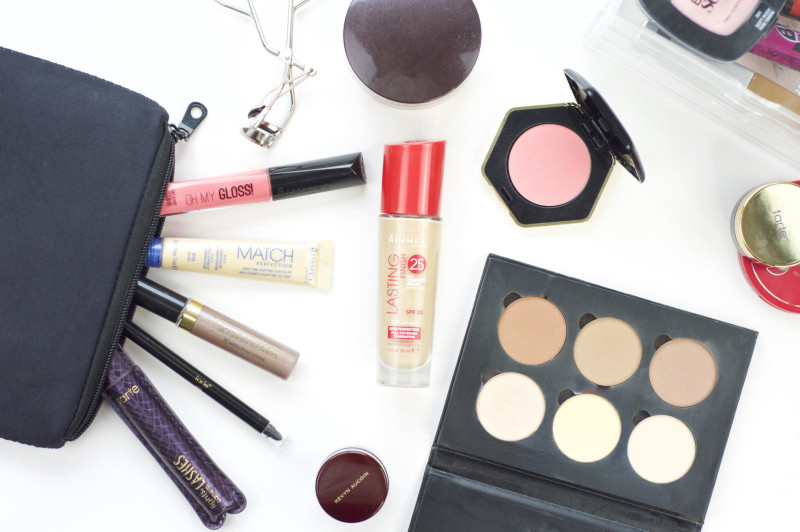 When I'm getting ready for work I like to stick to products that I know and love, I save my makeup experiments for the weekend. I also reach for products that I know will be long-lasting and durable throughout the day, I'm not someone who really likes to touch-up throughout the day. I do however work in an office, so my makeup doesn't have to be bullet proof, I like to let my skin breathe when possible! If you've been reading Made From Beauty for a while, you'll know I'm a bit of a beauty addict, so throughout the week I keep all my makeup in one bag (which is what we'll be rifling through today) and then change that on a week to week basis so that I actually use all the products I have. So let's take a look at the line up in this weeks bag…
The foundation I have been reaching for this week has been the Rimmel Lasting Finish 25hour Foundation with Comfort Serum. I like this base for everyday because it has great lasting power and offers a nice medium coverage and natural look.
I keep a couple of concealers on hand throughout the week because I can't seem to predict what my skin will do from one week to the next at the moment, the first of these is the Rimmel London Match Perfection Illuminating Concealer. I have been reaching for this more and more recently as an alternative to my Charlotte Tilbury Mini Miracle Eye Wand, although this product isn't nearly as groundbreaking as the Charlotte Tilbury, it does give the same concealed but highlighted look under the eyes. For the unexpected 'Monster Spots' as we call them in my house, I have the Kevyn Aucoin Sensual Skin Enhancer rolling around at the bottom of the bag. I don't often need to get this one out but it's a good product to have on hand for its extreme coverage.
Powder wise I've been turning to an old favourite, the Laura Mercier Mineral Powder with SPF15. This is a mineral foundation and has lots of coverage for a powder, yet manages to keep skins natural radiance. I use this instead of the Rimmel foundation if my skin is being well behaved and on top of liquid foundations if my skin is really bad – a great all rounder!
I also keep my Anastasia Contour Kit on my vanity during the week as I find the bronzers to last all day and the highlight shades to be natural enough for everyday.
On the cheeks I've been using my H&M Powder Blush in the shade Hot Pink for a pop of colour.
On the eyes I like to keep things really simple with a cream or liquid shadow throughout the week and the one I've been using recently is the Max Factor Masterpiece Colour Precision Eye Shadow in the shade Coffee, a metallic taupe brown with a purple undertone. This liquid eyeshadow effortlessly brings out my eye colour, blends easily and stays put all day – a brilliant budget buy!
Elsewhere on the eyes I've been using two of my favourite products to come out of me trying out some things from the brand tarte (which you can read all about HERE); first up is the tarte Amazonian Clay Silk Eyeliner in Black to give my eyes a little definition. And also from the brand is the Lights, Camera, Lashes 4-in-1 Mascara. I'm officially hooked on this volumizing, deep black, long wear mascara, I like to load up on the coats even in the day time!
And finally on the lips I've been keeping it really really simple and just slicking on a little of the Rimmel Oh My Gloss! Lip Gloss in Glossaholic. This affordable gloss would give any highend formula a run for it's money; formulated with Argan Oil and Vitamin E to condition and nourish the lips, comfortable and non-sticky, I am totally in love!
So what products are in your current makeup bag? And do you do the same as me, do you try to use different products every week? Let me know in the comments below!
Sam
Check out Made From Beauty's Shop HERE